Imagine a vacation-inspired lifestyle that you can embrace all year long! This 2,442-square-foot dream home offers a rare opportunity—not only do you have a spacious layout with 4 bedrooms and 3.5 baths (this home will comfortably sleep 10!), you'll find an idyllic outdoor setting that includes decks, a hot tub, a fire pit, and more. Plus, a trail right outside your door leads you straight to the beautiful Pacific Ocean! Located at 221 Compass St Pacific Beach, WA 98571 on a corner lot in the desirable Mill District, this residence is listed for $998,000 and offers a great rental program. 
Built in 2016, this Seabrook getaway shines like new. An eye-catching exterior delights as soon as you arrive home, from the charming picket fence and crisp white trim to the welcoming front porch and cottage-inspired aesthetic. You can spend quiet days here working remotely, or invite loved ones to enjoy the weekend with you—years and years of cherished memories are sure to be made here. 
The expertly curated great room awaits as soon as you step inside, and it's immediately evident that no expense has been spared. In the well-appointed kitchen, a large layout includes generous counter space, pristine white cabinets, sleek appliances, and a huge island ready for laid-back entertaining. Serve up meals in the dining area with ease, and gather in the living area to warm up by the stately fireplace. Neat built-ins offer both fashion and function—display treasured keepsakes and decor to easily infuse this haven with your own unique style. 
In the fully finished basement you'll find even more versatile square footage, and this home's 4 bedrooms promise space and privacy for everyone. The master suite is especially sumptuous—in addition to a large layout, an ensuite bath shows off a blend of classic and contemporary style ready to stand the test of time! The same is true for the rest of this home's baths—fresh finishes sparkle with newness and promise to impress. 
When you're ready to get out and enjoy the fresh air, this home offers 2 covered areas ideal for al fresco dining and relaxation no matter the weather! When the sun starts to set, unwind in the hot tub, and roast s'more around the fire pit, all while the sound of waves crashing on the beach delights in the background. Coastal living just doesn't get much better than this! 
Living in Seabrook
Located at 221 Compass St Pacific Beach, WA 98571 and tucked away in the oceanfront town of Seabrook, you're wonderfully close to the sandy beach, cute shops, popular restaurants, lovely parks, and more. This laid-back community lets you feel miles away from the hustle and bustle of city life, and in addition to the beach, you're not far from even more outdoor adventure. Opportunities for camping, hiking, state park exploration, and so much more are easily within reach from here.
Interested in learning more? Click here to view the full listing! You can also contact REALTOR® Kris Jones online here or give her a call/text at (253) 370-8928!
You've decided to put your beloved home up for sale…now what? Now its time to make sure your beloved home looks as loveable to others…specifically those who might give you a large amount of money for the keys. 
Here are the priorities: Fix, Maintain and Improve. 
Fix
The priority here is to eliminate any obvious deal-breakers. 
Roof repairs, air conditioning, furnace, water damage, flooring problems are all elements that even a novice home shopper will see and run! 
If you are selling in a time where inventory is lower, you may have some more flexibility. But if inventory is vast, these problems will eliminate your home before people even give it a legitimate thought. There is a possibility that a price can be listed with an allowance for repairs that can be done by the new owners. But the best practice is to get all major repairs done BEFORE the first open house. 
Maintain
The next place you should turn your attention to is indoor maintenance. Many people looking at your home are coming from previous homeownership and know what issues can crop up. Your job is to get as many things fixed or improved to eliminate as many barriers as possible. 
Bathrooms: Touch up the paint and add fresh caulking. 
Kitchen: Add fresh caulking and make sure your appliances are print-free.  
Windows: Check Insulation. If you are selling in the Fall or Winter this is very important. Older buyers will notice drafts immediately! 
Air Filters: If you are selling during the cold months, make sure your furnace doesn't smell dusty. Your viewers may not know why the smell exists they will just not want to come back. 
Each Room: Dust thoroughly and check for cobwebs.
Improve
Depending on your timeline, small improvements can make a big difference. And remember, when it comes to Real Estate, these differences mean thousands of dollars or closing a sale months earlier. 
Outside: Clean the gutters, mow the lawn, trim branches, pull weeds and tasks like that. 
Flowers: If the season calls for it, add some flowers and spruce up the flower beds. 
Walkways: Keep them clean and debris-free. 
So that is a quick overview on preparing your home for sale! If I am your agent, I will be your number one advocate to make sure your home looks as good to strangers as it does to you. 
I can honestly say I've seen over a thousand homes that have been up for sale over the years and know what works and most importantly what doesn't work. One of my main tasks is to help you eliminate the problems that will get your home rejected immediately. 
Please send me an email if you have any questions and I look forward to talking more! 
If you ask ten housing experts about the latest news in housing…you're likely to get eleven answers.
While some statistics can be easily verified, most statistics are used by the people sharing them to make a point. Or specifically…their point.
So what is an average person to do?
Understand YOUR goals.
Are you looking for income? Do you want to manage rentals or subcontract the management? Are you looking to upgrade? Are you looking to downsize? Each person's goals in the Real Estate world are as unique as each person. Knowing where you want to be down the road must be clear as crystal.

Appreciate YOUR budget now… and in the future.
While today's bills are right in your face, before you jump into a major Real Estate investment, make sure you have a good grasp on how you see your income changing. A good Real Estate partner will help you discern what is a wish…and what is wishful thinking.

Honestly asses YOUR skills and time availability.
Please note the word 'honestly.' Before you jump into a fixer-upper, you need to know if you are an HGTV, fix-it superstar or just someone who has good taste and an amazing ability to hire people. Either option can be the right option… or the wrong option. You just need to be sure you will have the skill, time and energy to finish the project.
Listen to YOUR timeline.
If you need to act quickly, you need to act quickly. But…if you have some time on your hands, you will be able to get the best properties at the best price. Having the right Real Estate partner is essential to figuring out when a property is priced to move.
Did you notice the capitalized word? Your.
The right Real Estate partner can make or break your purchase. Listening to the news, going to seminars, or talking with friends can all be good… but you want Real Estate purchases to be GREAT!
No other purchase can have a make-or-break impact of your life like a Real Estate purchase.
I have the experience and knowledge to ensure each purchase fits with each of your goals. While you may purchase Real Estate a few times in your lifetime, I walk through Real Estate purchases every week.
But be forewarned…they may not always tell you what you want to hear. A good Real Estate advisor should be there to tell you to 'tap on the breaks' or 'step on the gas!'
Trends and statistics may be confusing to you, but for me, they are as common as a cup of coffee.
The bottom line is while trends may come and go, value never changes.
At Windermere, we believe if you can dream it, we can find it – Windermere supplies real estate brokers like me with the best team and tools to get you into that home you are dreaming of.
What are you waiting for?
Fill in the "contact us" form today or call me directly at 253-370-8928.
You may think that trying to buy when it's a seller's market is tough…and it can be. But that doesn't mean its impossible. There are just a few points to keep in mind. 
BE READY! Do all your research beforehand to know what you must have…and can live without. In a seller's market, there can be a false sense of urgency that may lead you to make a decision based on fear and not facts. Get your emotions lined up with your most important features and be willing to pass if those aren't met. Yes, you may have to decide quickly, but you don't want an emotional decision to be the wrong decision. 
Have your paperwork ready. 
The more information you have at hand, the more you will be ready to make the decision quickly. Have your proof of funds and any mortgage pre-approval documents all accessible to show any offer you make is legitimate. 
The sad part is in a seller's market you can't play hardball. But you don't want to lay down. Your budget must still be held tight, but don't be afraid to ask for what you need. This is one of those moments getting an experienced realtor like me on your team. We handle transactions like this weekly and are able to let you know when a deal is good…versus great…versus AWESOME! 
Don't be contingent heavy. 
Leaving 'what-ifs' is risky, but you may need to, to ensure your offer is accepted. Again, these kinds of issues are the ones realtors like me deal with regularly. We will be able to help you discern if a contingency is a deal-breaker or not. 
Flexibility is key in a seller's market. You may need to broaden your search a little further away from your target neighborhood. A seller's market makes everyone compromise a little bit more. That doesn't mean you shouldn't try…it just means that those who keep their focus on the most important features will still be successful. 
I hope this has helped! Seller's markets create new challenges that require new mindsets. I would certainly love to help you find your next home! The nature of the real estate market is always changing. Good advice is timeless. 
Let me know how I can help. 
Kris Jones
Real Estate Broker
Windermere Real Estate
The epitome of Pacific Northwest charm awaits with this palatial 2,247-square-foot Olalla gem! Not only are you surrounded by lush, mature landscaping on a 0.52-acre property, but this residence boasts absolutely stunning views of the Colvos Passage and Mt. Rainier. You even have community beach access complete with a boat launch, a dock, and a cabana! Additionally, this pristine, move-in ready home includes 3 bedrooms, 2 baths, expansive living spaces designed with entertaining in mind (just wait until you see the huge recreation room!), plus a brand new roof. Located at 15119 Starr Place SE Olalla, WA 98359, this Olalla home is just minutes to Gig Harbor conveniences and is listed for $659,950. 
As soon as you pull in the driveway, this property's incredible waterfront view is right there to welcome you home. The front door opens up to reveal an inviting open-concept layout, and the great room is ready for all that life throws your way whether you're hosting a house filled with guests or simply relaxing by the fire and enjoying the idyllic view. 
A gourmet kitchen is right at your fingertips, and this well-appointed haven takes entertaining to the next level. Shimmering finishes add to the sophisticated aesthetic, and rich cabinetry offers tons of storage. Whether you're whipping up homemade meals or gathering around the center island to sip on wine with friends, you'll find everything you need for hosting memorable get-togethers! 
The layout effortlessly flows right into the dining area, and here you have more than enough space for a full-sized dining table. Huge picture windows frame the photo-worthy view, and sliding glass doors that lead right out onto the deck just expand your entertaining space—it's as easy as possible to take advantage of al fresco dining all summer long! 
Discover even more versatile living space with this home's expansive recreation room. This sprawling retreat promises to become the ultimate hangout, and it's the perfect getaway! Set up an entertainment center (movie marathons and game day parties are definitely in your future!), create a recreation area (there's tons of space for a pool table, foosball, ping pong, air hockey, and more), and use any extra space as a fitness center. Your imagination can really run wild with this massive space! 
This home also includes 3 bedrooms, and each comfortable oasis promises privacy. Each unique space offers something a bit different, and built-in closets, cute window bench seating, and direct outdoor access are all in the mix. The master suite is especially sumptuous with its extra-large layout, ensuite bath, and walk-in closet. 
When it comes to outdoor amenities, this home offers vacation-inspired potential. Not only do you have captivating views at every turn, but the 0.52-acre property presents abundant opportunity. Expansive deck space shows off the perfect perch whether you're entertaining a crowd or enjoying the view in peace and quiet, and the large yard is ready for your green thumb to get to work! RV parking offers convenience, and as residents of this home, you even get community beach access. A boat lunch, dock, and cabana offer even more ways to explore the outdoors.
Living in Olalla
At 15119 Starr Place SE Olalla, WA 98359, you're in a picturesque residential setting while being just minutes to Gig Harbor convenience. You're just a 13-minute drive to hop onto Highway 16, and Downtown Gig Harbor (and its many waterfront attractions) is only 11 minutes from home. When you need to run errands, Borgen Boulevard is only an 11-minute drive away as well, and here you'll find popular places like Costco, Albertsons, Target, The Home Depot, Office Depot, Walgreens, and much more. 
Interested in learning more? Click here to view the full listing! You can also contact REALTOR® Kris Jones online here or give her a call/text at (253) 370-8928!
Nestled in a scenic residential setting in the highly desirable Twin Lakes Neighborhood, this Federal Way beauty is just minutes from the community clubhouse and the golf course! Lovingly cared for and wonderfully move-in ready, this 1,930-square-foot home includes 4 bedrooms, 2.5 baths, light-filled living spaces, and a fully fenced backyard with a huge patio and deck. Located at 31402 40th Ave SW Federal Way WA 98023 and close to freeways for easy commuting, this residence is listed for $475,000.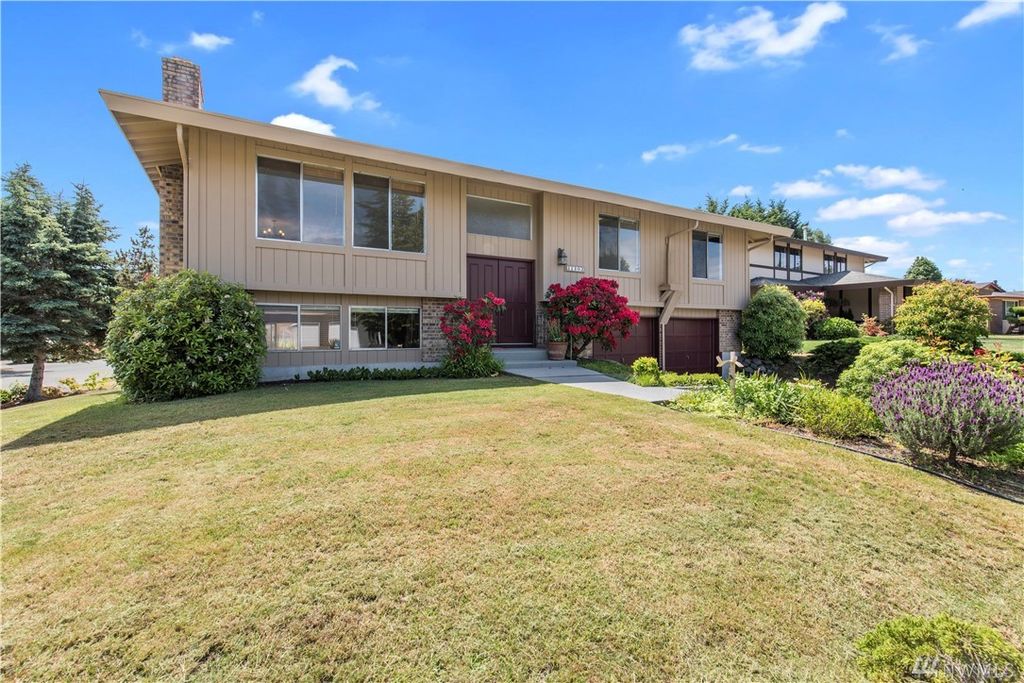 Artistically framed by mature trees and lush greenery, when you pull in the driveway, this home's picturesque scene greets you! A joy to arrive home to time and time again, this treasure is ready for all that life brings. In the main living room, light cascades in through huge windows, and a classic brick-accented fireplace anchors this versatile space. Showcasing a neutral color palette, this haven is just waiting to be infused with your personal style, whether you envision something more traditional or trendy!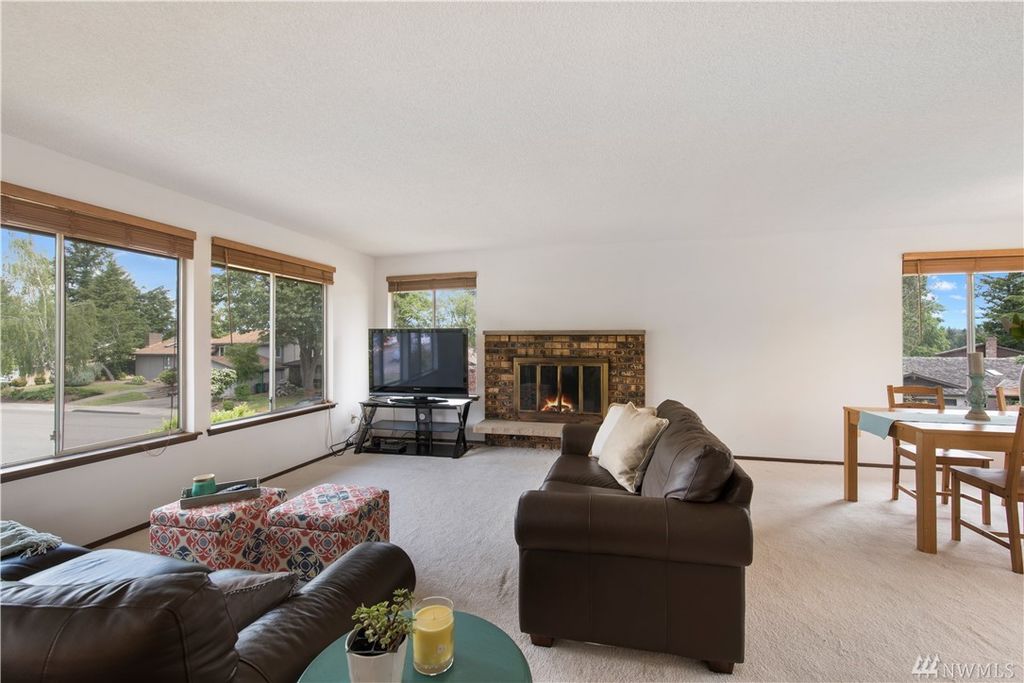 The layout opens up into the similarly light-filled dining area, and just around the corner, the kitchen reveals efficiency and simple elegance wrapped up into one dynamic package. Crisp white cabinetry adds to the cheerful, fresh atmosphere, while promising ample room for storing kitchen essentials. Bar-style seating can be found at the counter, perfect for enjoying a laid-back morning cup of coffee or an afternoon snack. A door leads directly to the back deck, offering convenience you'll appreciate when hosting outdoor dinners and weekend barbecues!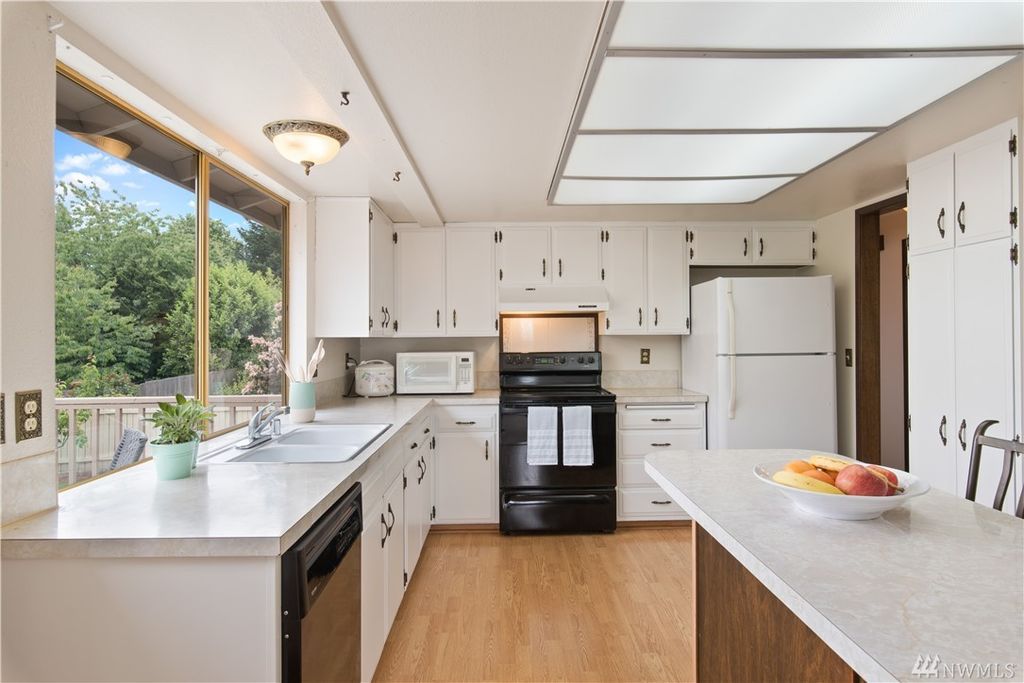 Find privacy and comfort in this home's generous 4 bedrooms, and an additional living area downstairs provides the ideal hangout. Featuring cozy cabin-inspired wood paneling, built-in shelving, and a gorgeous stone-accented fireplace at the center of it all, this flexible area could easily be transformed into a living room perfect for movie nights snuggled up on the couch with a fire dancing in the background!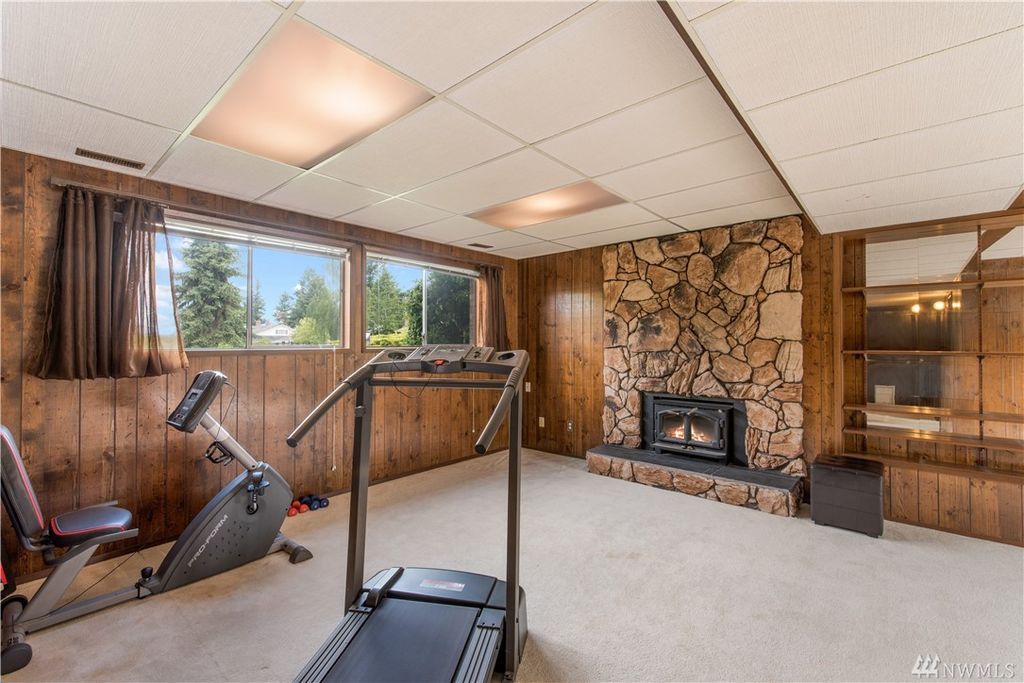 Sliding glass doors lead right out to the partially covered backyard patio. Enjoy the view of the neatly manicured lawn from the patio or the upper deck, where you'll be able to take in peek-a-boo views of the sound as well. The backyard is ready to come to life with your unique vision of home, and garden beds overflowing with fresh flowers and produce, a play toy for little ones, and more are all possibilities within reach!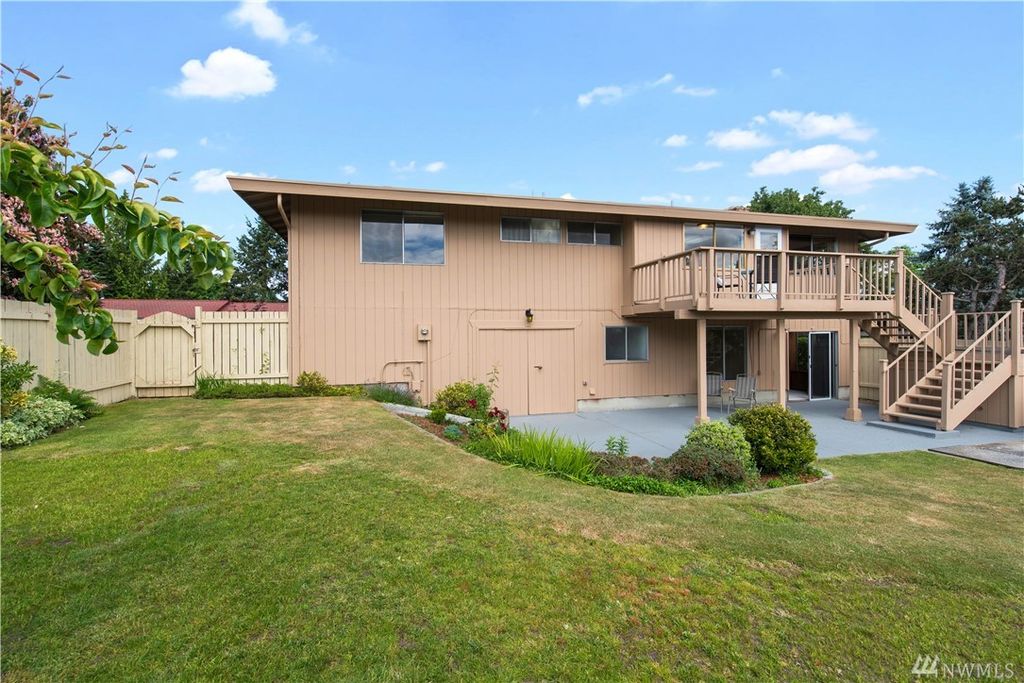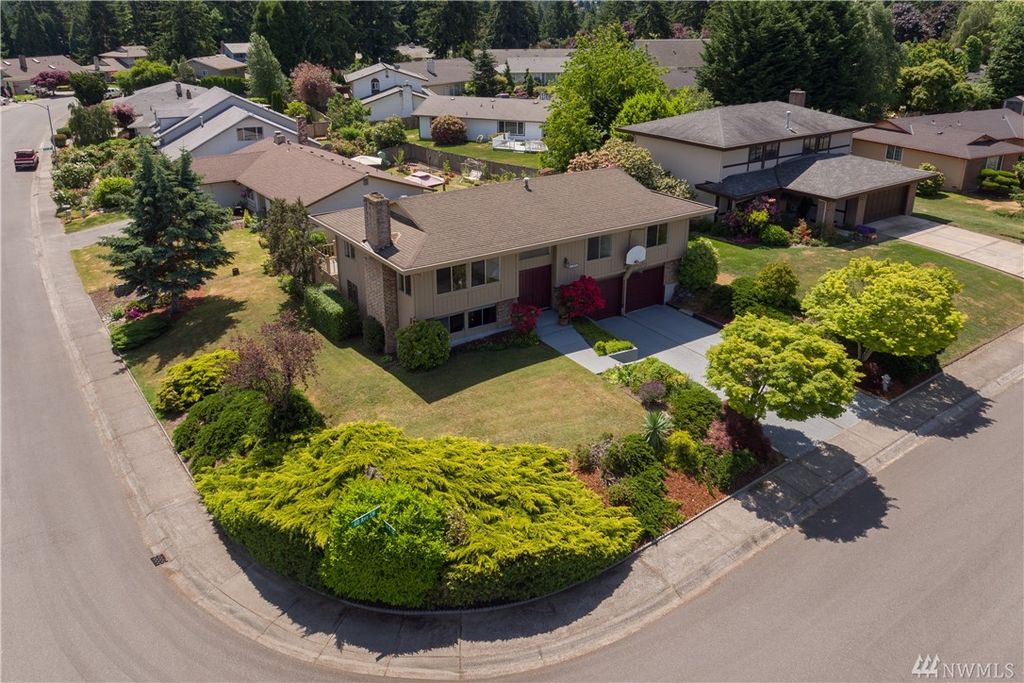 Living in Federal Way's Twin Lakes Neighborhood
At 31402 40th Ave SW Federal Way WA 98023, enjoy being in a scenic location while being conveniently surrounded by top notch city conveniences and outdoor opportunities. The community clubhouse is just minutes away, a wonderful amenity that offers fun for all and quick access to golf! The 398-acre Dash Point State Park is only about a 5-minute drive away, and here you can escape into nature and take advantage of biking trails, kayaking, fishing, beachcombing, picnicking, camping, and so much more.
When you need to run errands, you'll find a huge variety of places to choose from at the intersection of 21st Ave and SW Campus Drive, and places like Safeway, Fred Meyer, Rite Aid, and several more shops, eateries, and services are all right there at your fingertips. Plus, Highway 509 is only a 4-minute drive from home, making it easy to connect to Pacific Highway and Interstate-5. 
Interested in learning more? Click here to view the full listing! You can also contact REALTOR® Kris Jones online here or give her a call/text at (253) 370-8928!
Tucked away from the hustle and bustle of city life, this stunning 4,032-square-foot home on Sunny Bay in Gig Harbor is a resort-worthy haven. Not only do you have 115 feet of breathtaking waterfront that's all yours, but enjoy being only 5 minutes from the Gig Harbor Golf Club, 10 minutes to Highway 16, and only 10 minutes to fabulous dining, shopping, and much more! Located at 7102 Ford Dr NW Gig Harbor WA 98335 on a park-like 1.66-acre property, this 4-bedroom, 4.5-bath residence is listed for $1,890,000.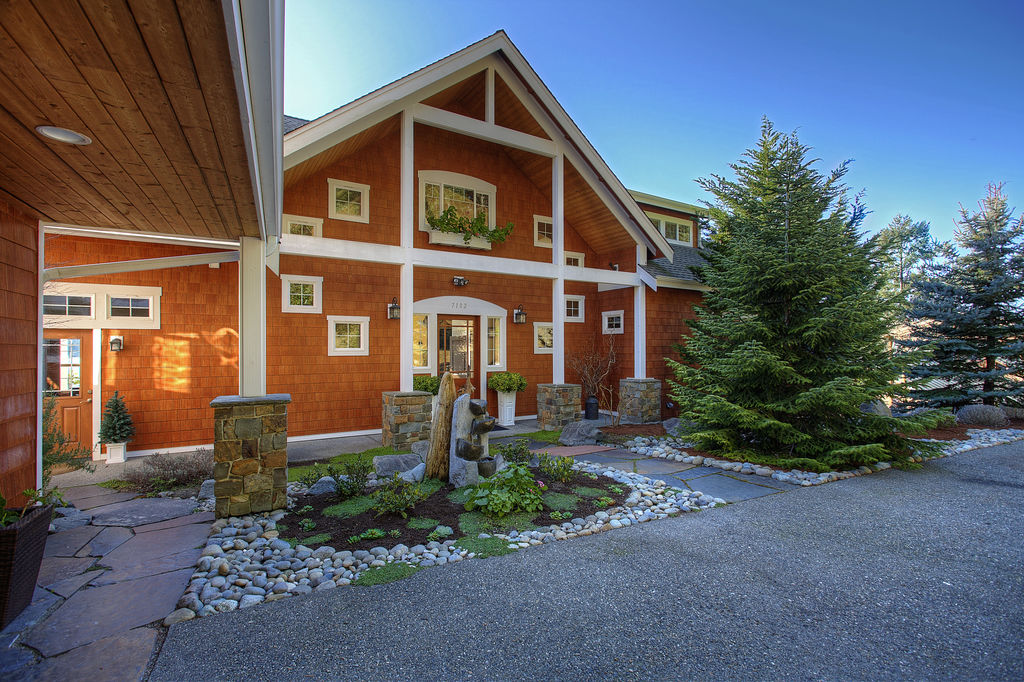 The Puget Sound is home to some truly magnificent luxury waterfront homes, but as larger cities experience more and more traffic congestion and crowding, those who desire a peaceful setting to call home will find themselves searching for greener pastures. Luckily, at this Gig Harbor location, you don't have to sacrifice any of the amenities you enjoy in a larger city like Seattle or Bellevue! Ultimate comfort and convenience are wrapped up into one fabulous package with this 2008-built beauty, and from the moment you pull in the driveway, this home's many thoughtful, custom details delight.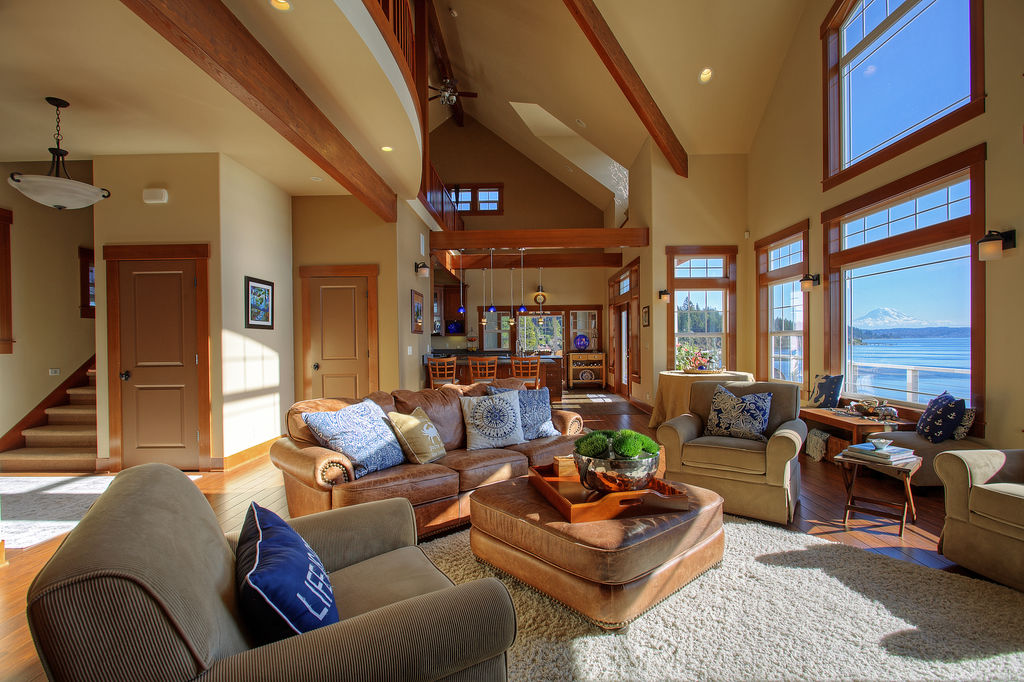 Artistic landscaping welcomes visitors, and just inside, this home's impeccably maintained interior invites you in. The main living room is the epitome of waterfront glory, and floor-to-ceiling windows offer you front row seats to one of Mother Nature's most captivating shows. Mt. Rainier, Hale Passage, and Fox Island are all in view, and whether you're enjoying a quiet afternoon sipping a cup of tea or hosting guests for a glass of wine, this photo-worthy setting offers the perfect backdrop.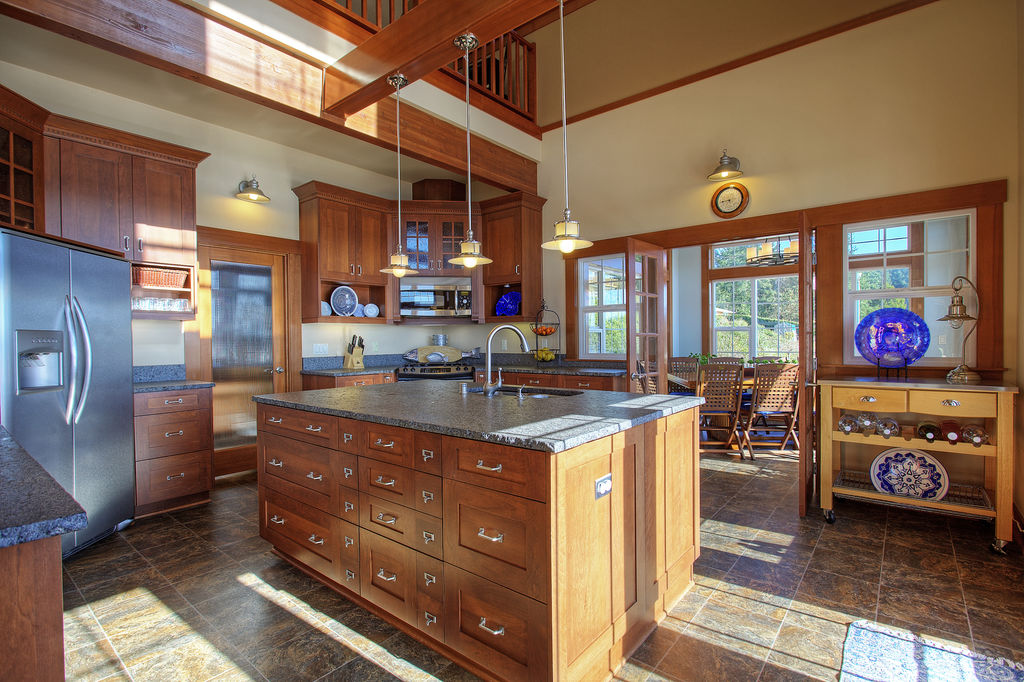 The soaring ceilings continue into the gourmet kitchen, where eye-catching wood beams hang overhead. Expertly designed with entertaining in mind, the kitchen's many high-end amenities offer the best in both function and fashion. Ample cabinetry and counter space ensure ample room for storing kitchen essentials and meal prep, and bar-style counter seating with the potential for a dining nook area provide tons of seating! The formal dining room features 3 walls replete with large gleaming windows, promising the comfort of being indoors while giving you full views of the water as it meets the lush coastline.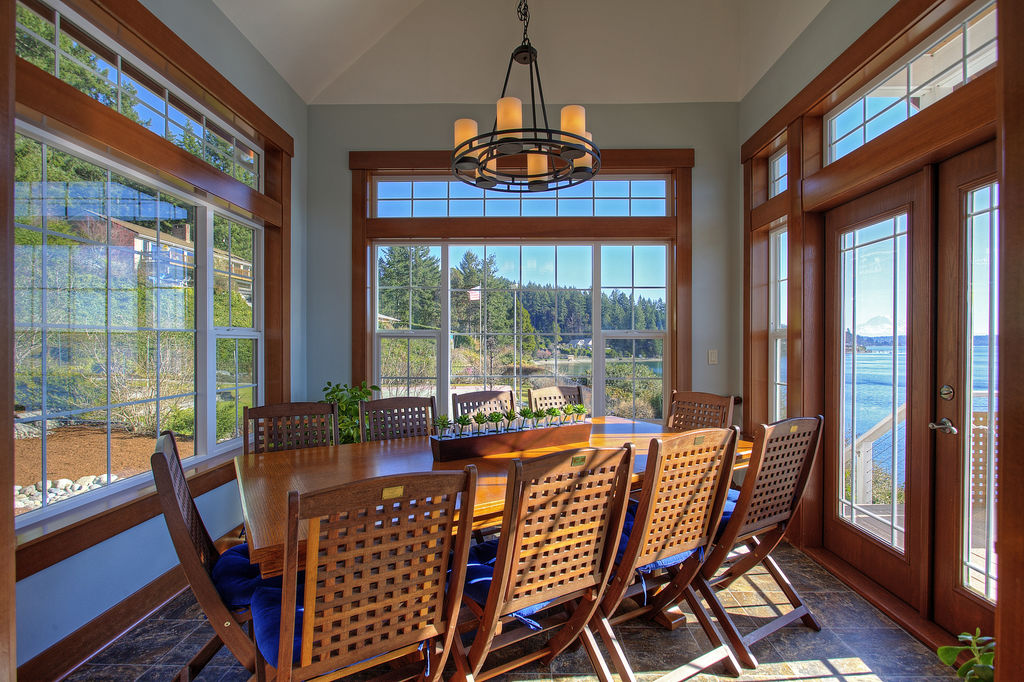 When it's time to unwind, this home's sumptuous 4 bedrooms offer loved ones privacy, and you'll always have plenty of room for guests to stay! The master suite is especially an indulgent treat—bask in the warmth of the fireplace while you enjoy dreamy views of the waterfront, all from the delicious comfort of bed. An ensuite bath is just the cherry on top, and spa-inspired amenities (like a soaking tub) and a carefully curated aesthetic await. In addition to this home's versatile bedrooms, you'll also find more flexible living areas to transform, and even more dynamic square footage can be discovered throughout this property, including a separate living space complete with its own kitchen. It's the perfect oasis for friends who'd like to stay at your Gig Harbor getaway for a few days!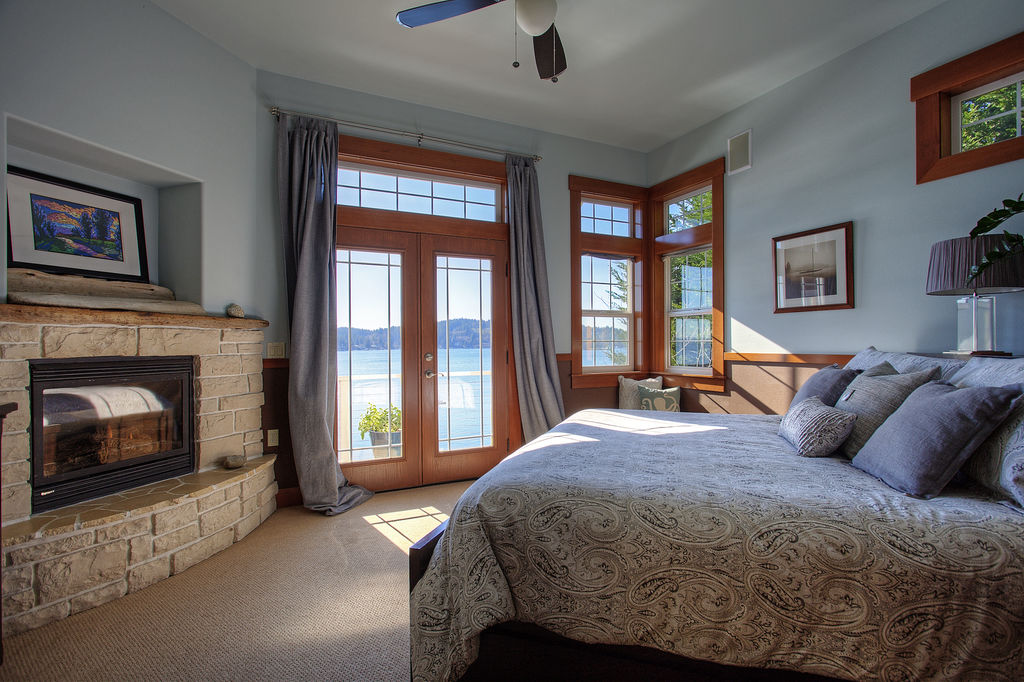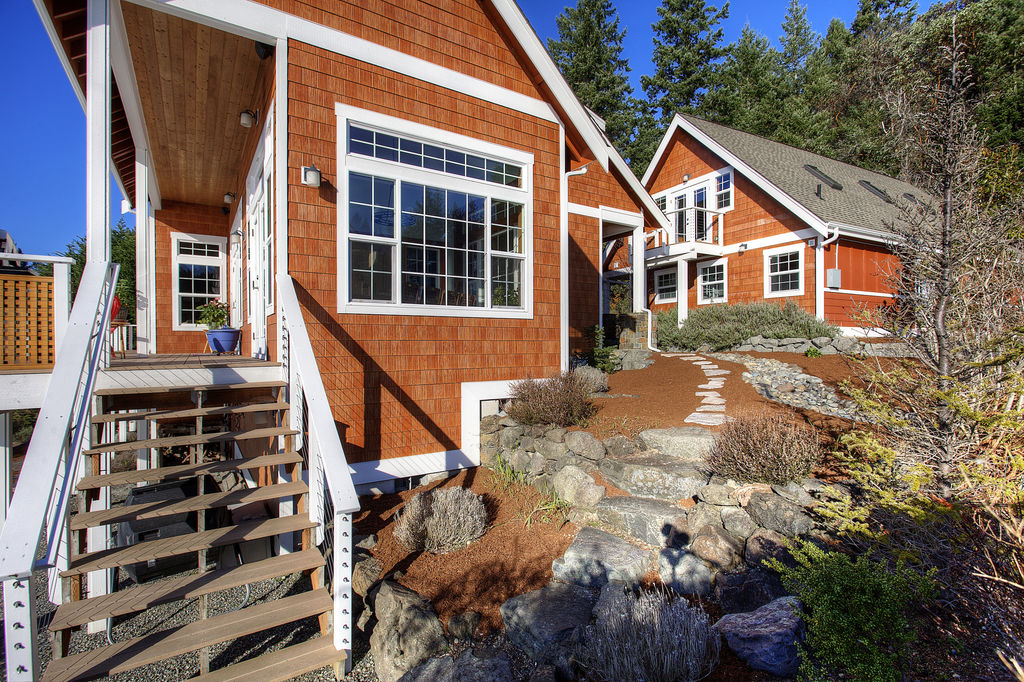 This custom home's vacation-like amenities just continue outside, where you'll find meticulous landscaping, stairs that lead right down to the beach, and an expansive deck that features jaw-droppingly gorgeous views of the shimmering water. Whether you're hosting a crowd for a lively barbecue, hosting a sophisticated gathering lit by firefly lights and candles, or simply sunbathing on a lounge chair in peace and quiet, the deck is your very own slice of paradise!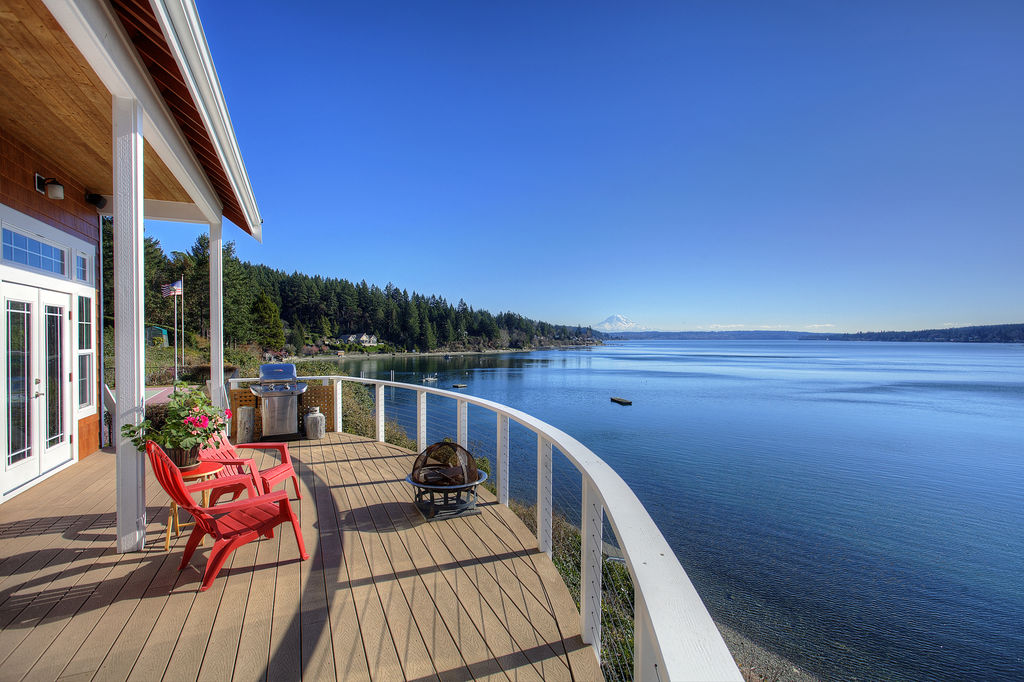 Living in Gig Harbor
At 7102 Ford Dr NW Gig Harbor WA 98335, shopping, dining, outdoor opportunities, schools, services, transit options, and more are no more than 10-15 minutes from home! Want to spend the day on the waterfront shopping and visiting art galleries? Downtown Gig Harbor is only 12 minutes away. Want to enjoy dinner and a movie? The Galaxy Uptown Luxury+ Theatre and a huge variety of restaurants await in Uptown Gig Harbor, only a 10-minute drive from home. Things to do and see are aplenty in this Puget Sound city, and there's always a community event going on in downtown.
In addition to having miles of beach at your fingertips, you're also close to some incredible outdoor offerings. The 109-acre Kopachuck State Park is only a 9-minute drive away, offering a scenic adventure when you just need to retreat into nature for awhile. The Gig Harbor Golf Club is only a 5-minute drive away, making it easy to get in a round of golf close to home!
Interested in learning more? Click here to view the full listing! You can also contact REALTOR® Kris Jones online here or give her a call/text at (253) 370-8928!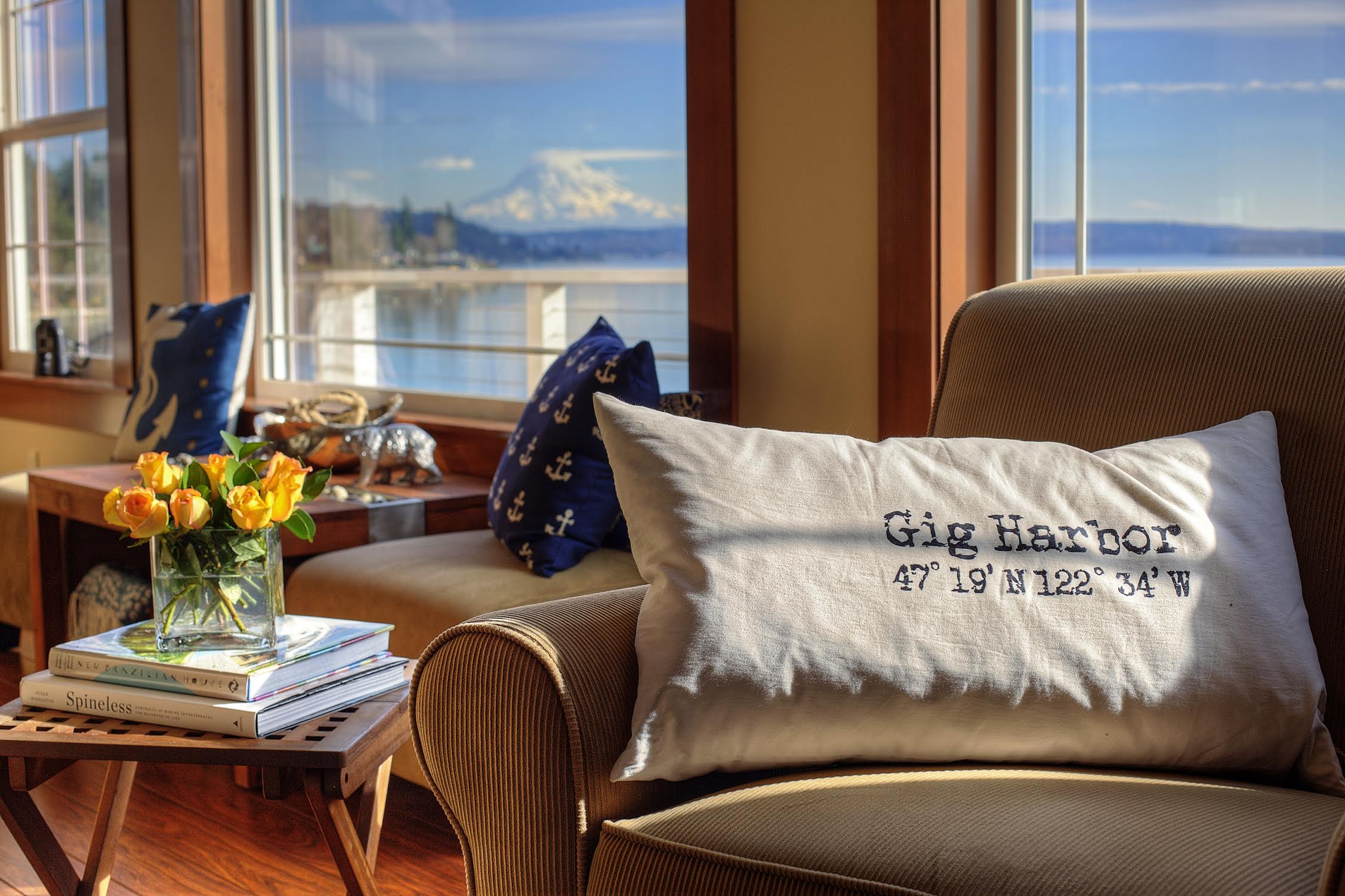 More and more in this competitive market Realtors will not even begin to show you homes until you are pre-approved with a lender.  It may seem kinda mean and like they are just in it for the money, but truly this is protecting you as the buyer.  It happens all the time, A buyer falls in love with a house they saw on line!  It was love at first sight!  You are dying to get inside that house, you call your realtor you worked with when you purchased your last house and now she asks if you are pre approved?  You say ummmm……what the heck does that mean ?
Unless you are paying for your home in cash, there are some essentials you will need to put together to get that pre-approval that will make your home buying experience so much more enjoyable and avoid the emotional rollercoaster that takes place when you get your heart set on a home you possibly can't afford, or even worse, you can afford it, but someone else had a stronger offer because they they were already pre-approved.
I recommend keeping all of the following in a nice folder you will not misplace.  You will be asked for the same information a number of times and often be asked for new information to add to it.
1. ADDRESSES
Be prepared to give your addresses for and dates of residence for at least the last two years.
2. PROOF OF INCOME
You will be asked to provide the last two years of W-2 statements and tax returns.  The lender you have chosen will also want your most recent pay stubs.
3. DEBT -TO- INCOME RATIO
Your debt to income ratio (DTI) they are going to use that acronym a lot, and others so hold on, and ask when you don't know.  Your DTI should be 40% including mortgage and insurance.  How in the world do you figure that out you ask ?? Simply put…Add up all your monthly income, then subtract all your debts.  So, if your monthly income is $10,000, you want no more than $4,000 in debt payments each month.
4. EMPLOYMENT VERIFICATION
Your employment status will be checked.  It is best to have 2+ years at the same job, or the same field of work.
5. PROOF OF ASSETS
Current bank statements will help your lender determine you will be able to make a good downpayment.  Keep bank statements, investment statements and any other funds you can use for your down payment.
6. GOOD CREDIT
Good credit helps a lot with the pre-approval process.  However, don't be intimidated if your credit is less than perfect, there are a lot of programs out there to help people.  Be prepared to give your lender your social security number so they can pull your credit reports.
7. YAY!  YOU ARE PRE-APPROVED
You will receive a letter from you lender stating you are pre-approved that states the price of the home you should be looking for.  Remember, that amount is up to you and what you feel comfortable with.
Being pre-approved prior to shopping for your new home can make the home buying process a lot of fun!  Information os power!  You and your Realtor know what you can afford.  You can avoid a lot of heart ache and pitfalls just by taking a few simple steps prior to starting the search for your dream home.
Resort-inspired living on scenic Sunny Bay beckons from this custom Craftsman masterpiece! Nestled on 1.66 lush acres along 115 feet of breathtaking waterfront in Gig Harbor, this expansive 4,032-square-foot home promises ultimate comfort and the opportunity to indulge in the lifestyle you've always dreamed of. Featuring 4 bedrooms, 4.5 baths, fabulous living spaces, a guest suite and so much more, this home is also replete with views of the majestic Mt. Rainier, the shimmering Hale Passage, and gorgeous Fox Island. Located at 7102 Ford Dr NW Gig Harbor WA 98335, this 2008-built residence is listed for $1,950,000.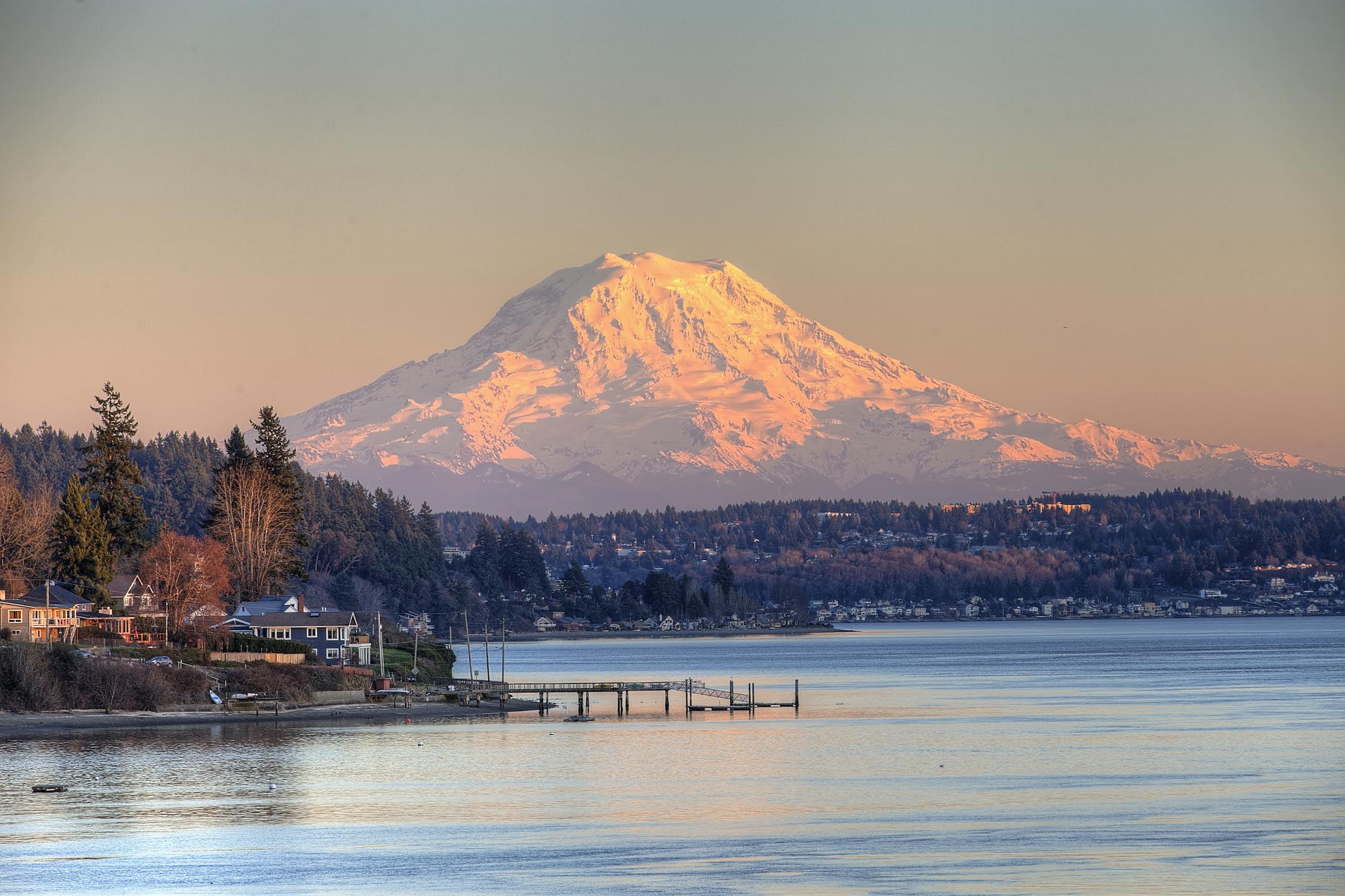 Showcasing a handsome exterior that offers a truly memorable first impression, this home's stunning Craftsman-inspired details are made all the more striking with its vibrant palette. A blend of stone accents and neat, verdant landscaping enhance the magazine-worthy scene, and once you step inside through the front door, this home's magnificent design keeps delivering.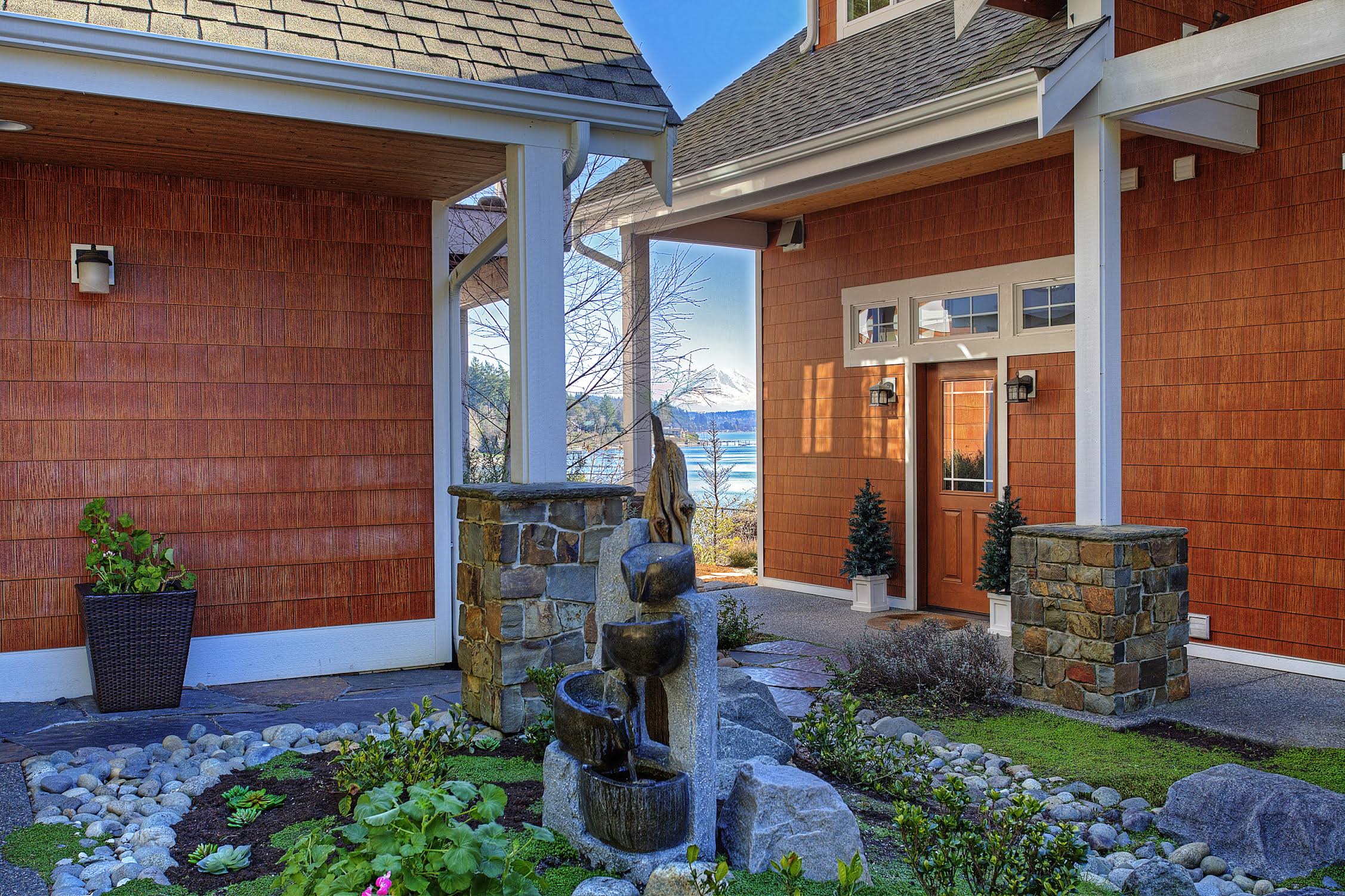 In the great room, soaring ceilings, eye-catching wood beams overhead, and a warm color palette are all highlighted by bright sunlight that cascades in through huge floor-to-ceiling windows. The view gets even better when you step out onto the sprawling deck, which offers a front row seat to one of Mother Nature's most extraordinary shows.
Whether you're relaxing on a lounge chair for a rejuvenating afternoon in peace and quiet, or hosting a lively party for a crowd, this home's deck is ready for years and years of memories. Stairs lead down to the water's edge, where you can store all of your water sport toys. Miles of serene beach stretch on, offering the ideal opportunity for beachcombing and exploration, all without having to leave your home sweet home.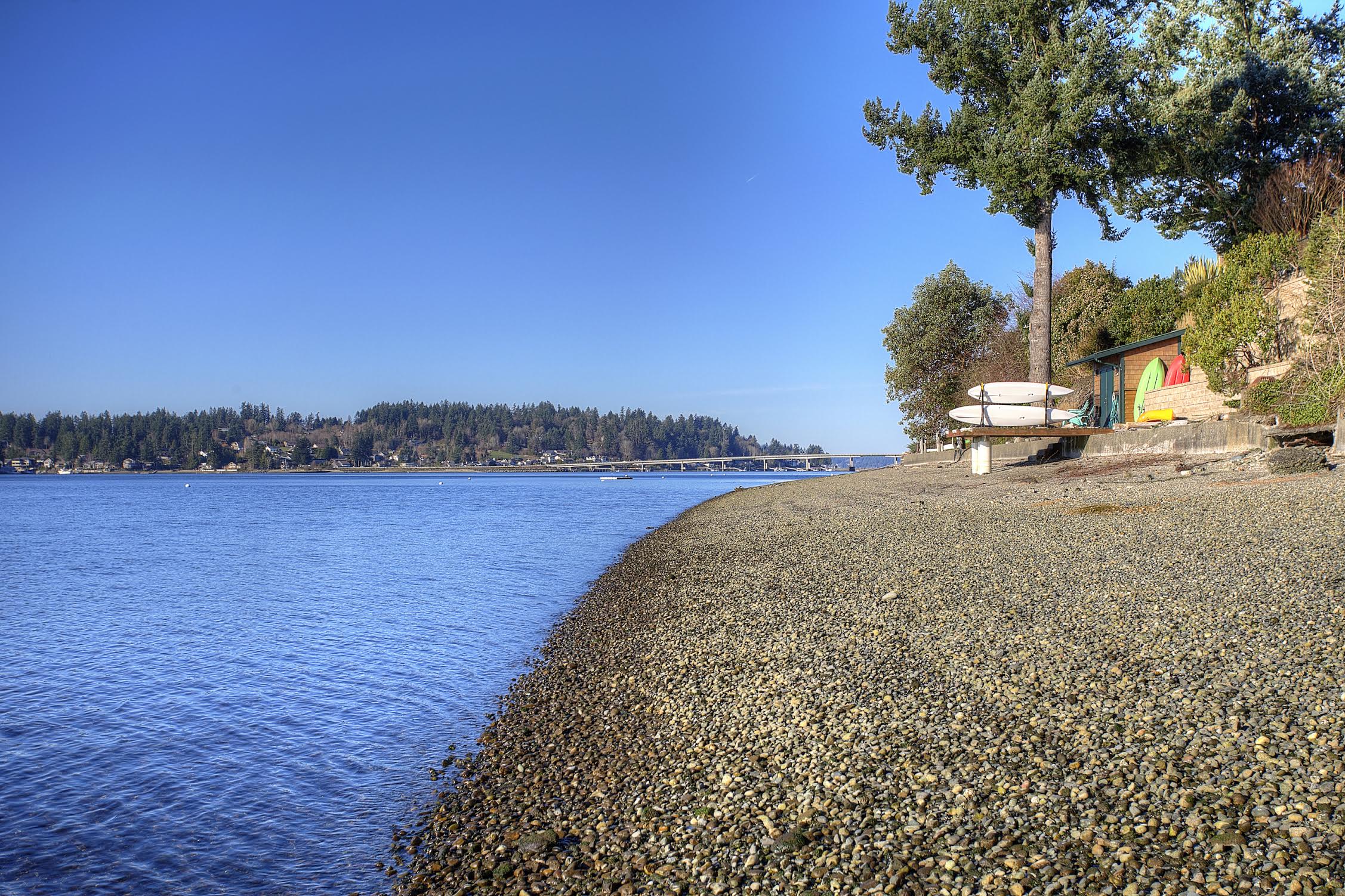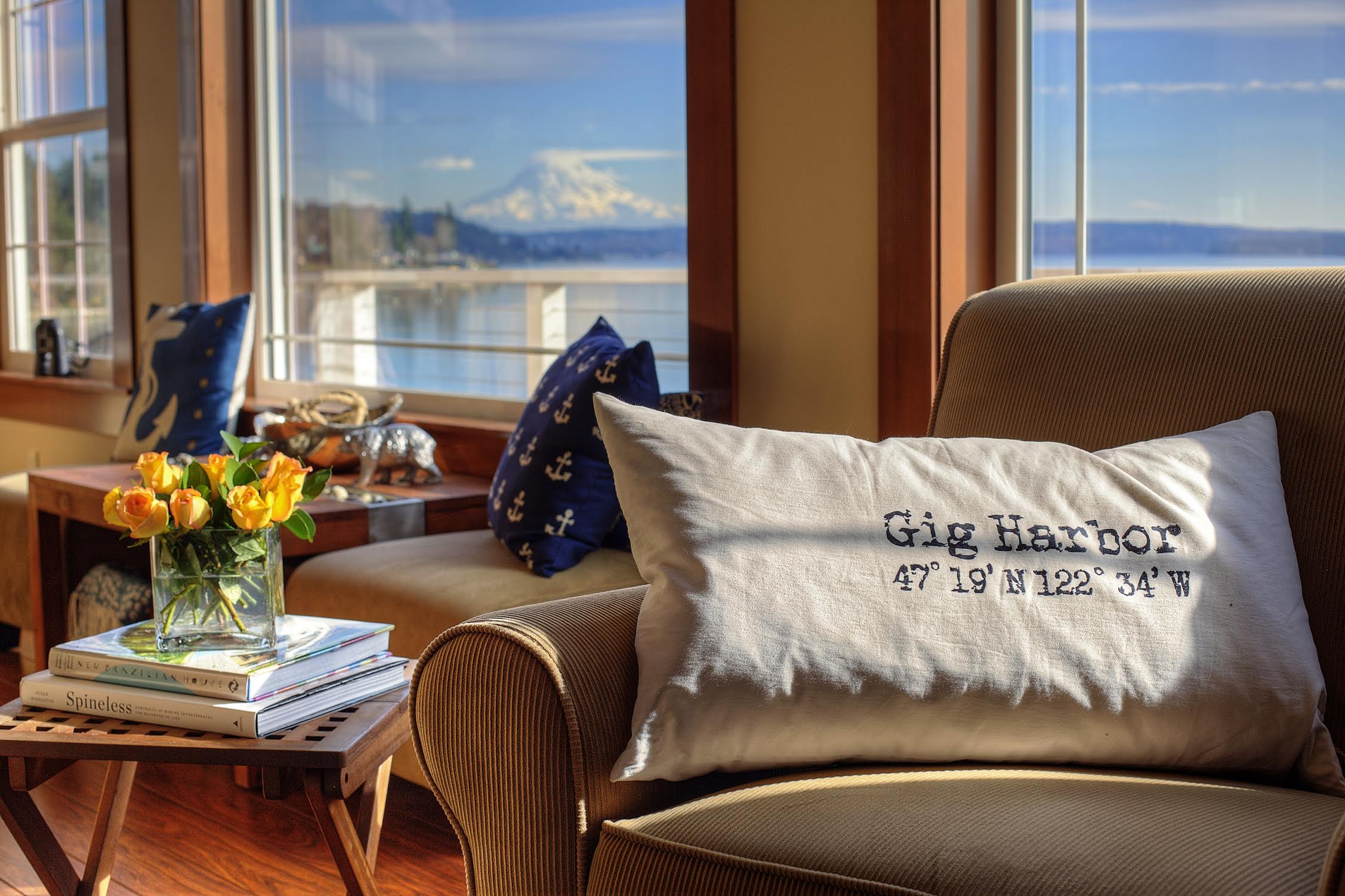 Created with entertaining in mind, this home is a host's dream. The main living area flows right into the open gourmet kitchen, a haven of function and fashion. Find ample cabinetry and counter space, both of which lend themselves well to everything from the simple tasks of daily life to whipping up elaborate holiday feasts. Bar-style seating offers a laid-back perch that's perfect for enjoying a morning cup of coffee, while the adjacent formal dining room provides a unique space to serve up home-cooked meals in. Gleaming windows surround this sophisticated space, ensuring you and your guests can take in the view at every opportunity.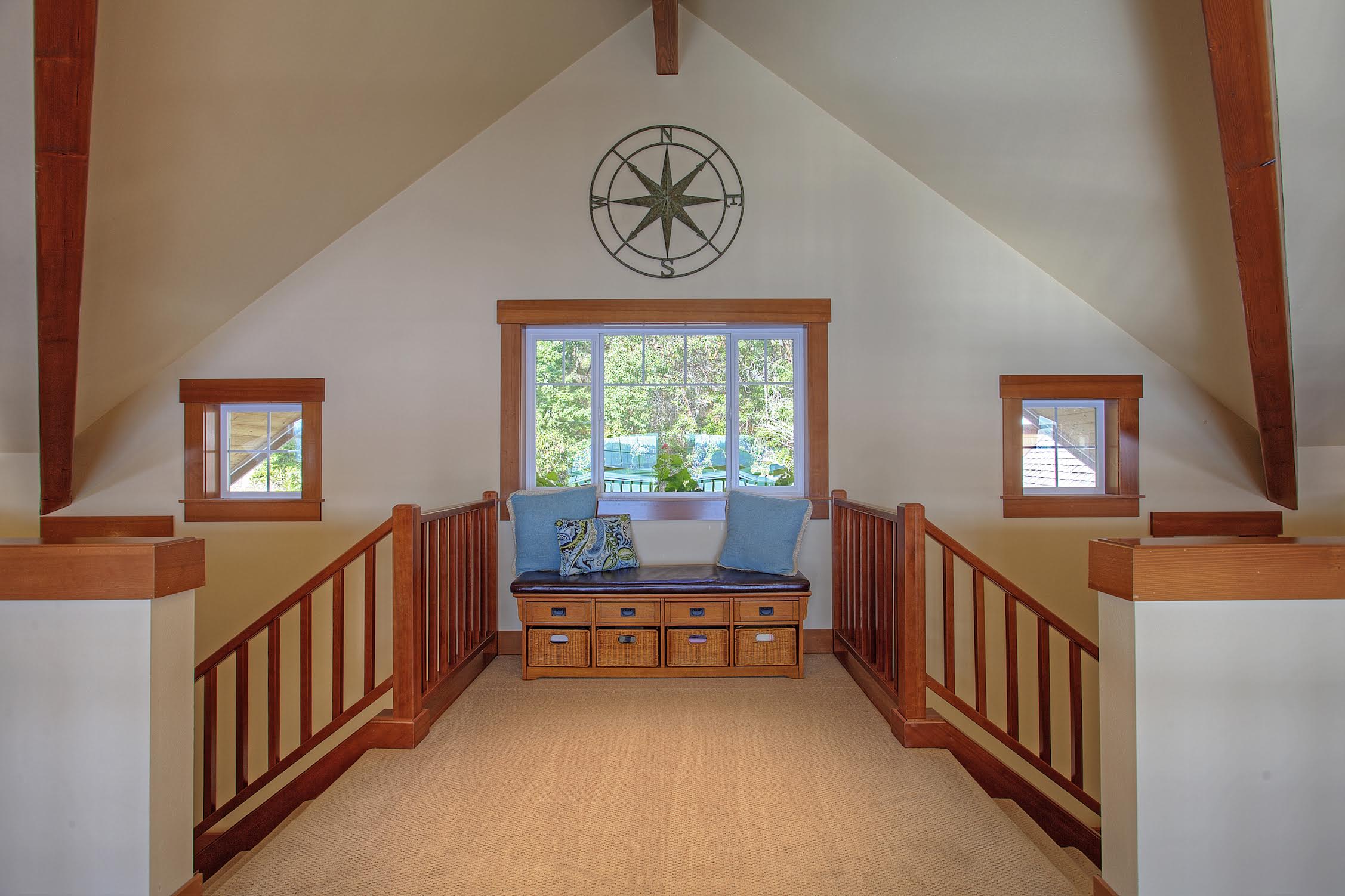 This home's 4 bedrooms and 4.5 baths conveniently include a main floor master suite, a thoroughly luxurious sanctuary that's brimming with dreamy amenities. A fireplace adds to the cozy atmosphere, while ample windows and direct outdoor access ensures it's easy to appreciate your home's gorgeous setting. The sumptuous setting continues into the ensuite bath, where you'll find fabulous spa-like amenities to indulge in. Even more dynamic square footage can be discovered throughout this property, including a separate living space complete with its own kitchen.
Living in Gig Harbor
At 7102 Ford Dr NW Gig Harbor WA 98335, you're in a prime Gig Harbor location where you can take advantage of the Pacific Northwest's signature beauty while still being close to city conveniences. Highway 16 is a short 9-minute drive from home, making it easy to connect to the rest of the city and the surrounding region. Golf enthusiasts will love being just 5 minutes from the Gig Harbor Golf Club, and when it's time to run errands, Uptown Gig Harbor is only a 9-minute drive away. Here you'll find places like Safeway, HomeGoods, Galaxy Uptown Luxury+ Theater, Ace Hardware, Rite Aid, and several more popular shops, services, restaurants!
Interested in learning more? Click here to view the full listing! You can also contact REALTOR® Kris Jones online here or give her a call/text at (253) 370-8928!