Tucked away in a scenic corner of Gig Harbor, this secluded oasis in Bridgewood Estates is an absolute delight to come home to! Immaculately maintained and offering an expansive 2,893-square-foot layout, this beauty includes 4 bedrooms, 2.5 baths, fabulous living spaces, and a storybook backyard perfect for entertaining in. Located at 2505 22nd Ave Ct NW Gig Harbor, WA 98335 and wonderfully close to golf courses and Highway 16, this Pacific Northwest gem is listed for $559,000.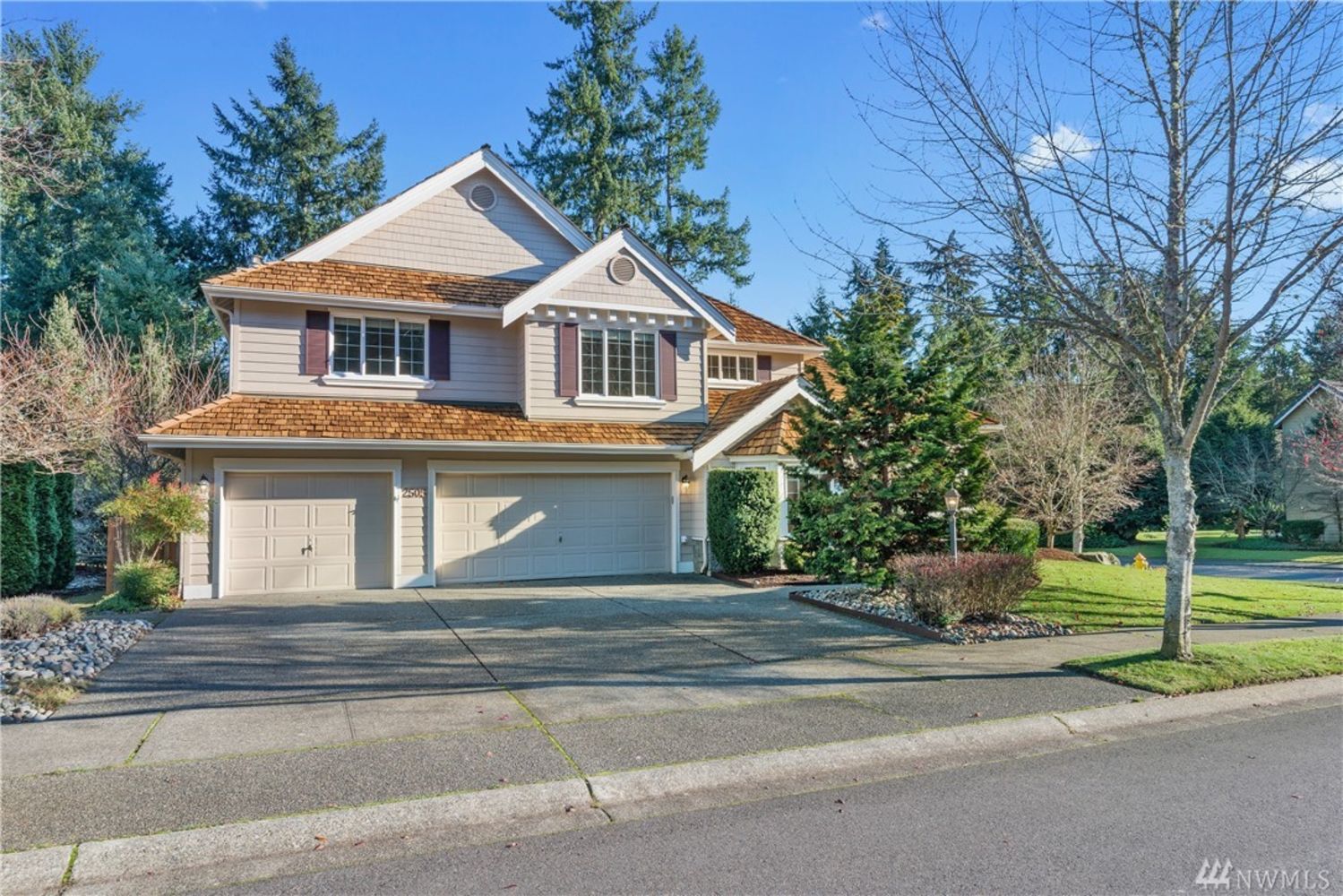 Nestled along sidewalk-lined streets and boasting a lush, meticulously landscaped yard, this Craftsman-inspired masterpiece welcomes visitors with an extra-large driveway and a 3-car garage. A charming front porch shows off the perfect spot for a bench swing and a flower arrangement, and as soon as you step inside, this home's grand entryway makes for a memorable impression! A staircase winds its way upstairs, while stately columns show the way into the formal living room. Sunlight pours in through large windows, and the layout effortlessly flows into the adjacent formal dining room—an entertainer's dream come true!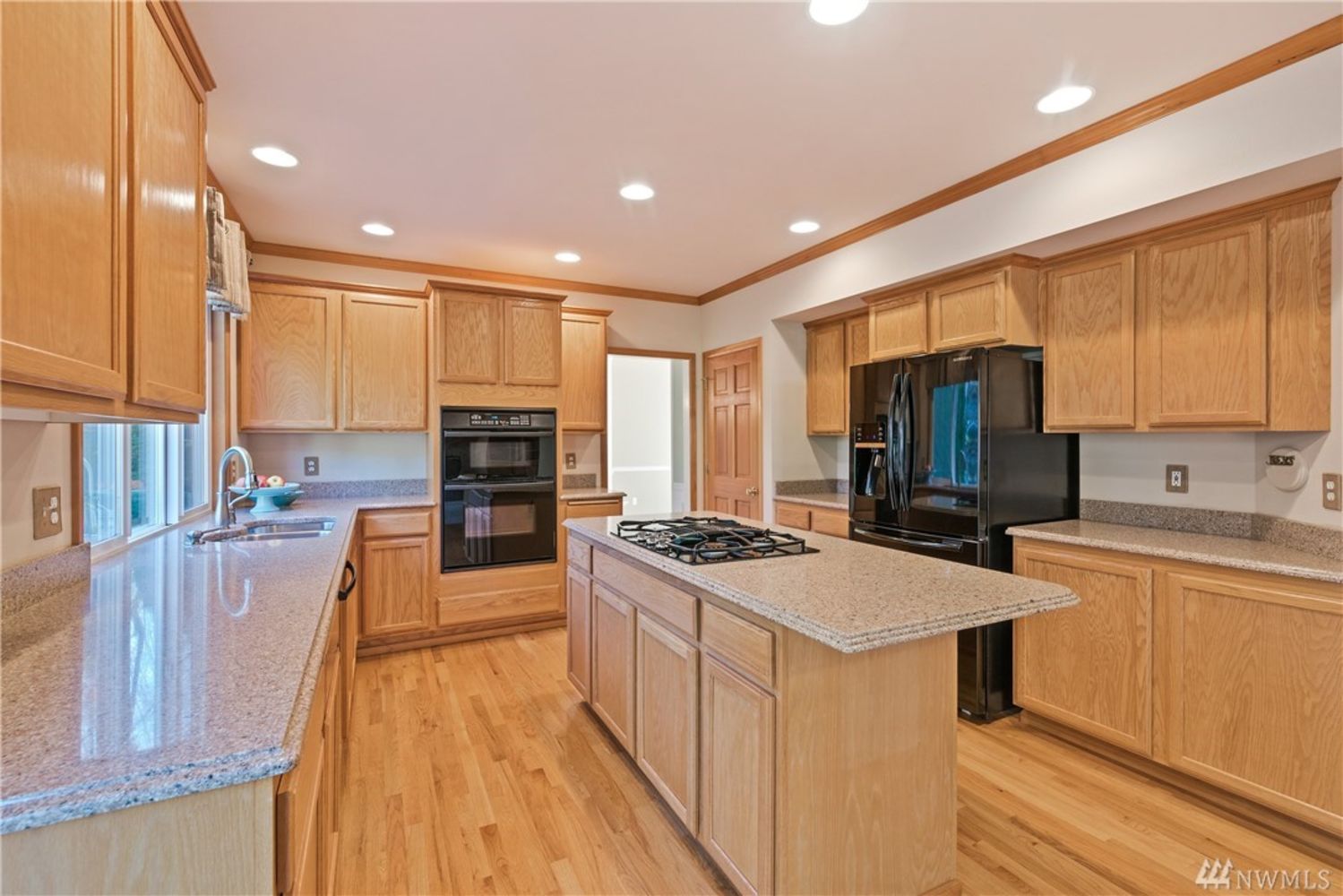 The kitchen awaits just around the corner for your convenience, and this huge chef-ready space is brimming with elegant style and efficient design. Silestone quartz counters offer ample space for meal prep, whether you're whipping up a gourmet feast for a special occasion or baking dozens and dozens of holiday cookies! The kitchen comes equipped with a generous supply of handsome cabinetry as well, ensuring you have plenty of room for storing everything you need day in and day out.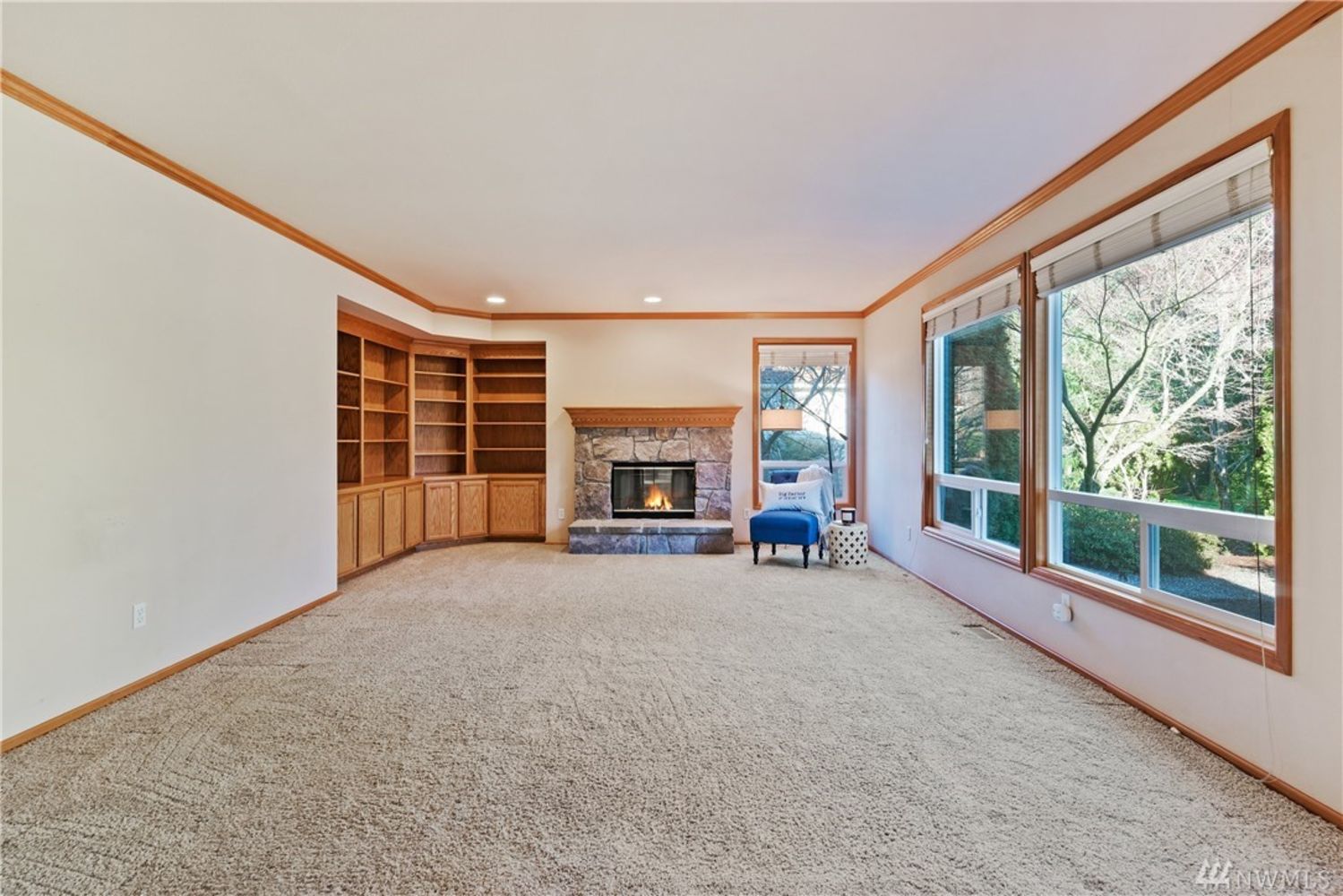 The great room flows into a dining nook area and an additional living room, where you'll find a classic stone-accented fireplace and wall-to-wall carpets for a cozy feel. Plus, eye-catching built-ins offer the perfect place for storing books, games, your DVD collection, and for displaying framed photos and treasured keepsakes. Shimmering windows offer a view of the tranquil backyard as well, all while inviting warm sunlight into this haven of togetherness! 
This home's palatial layout also include a den on the main floor, and you'll find even more versatility when you head upstairs. A bonus room and 4 bedrooms await, including the heavenly master suite that's ready to become your very own vacation-worthy retreat. Especially of note is the updated master bath, a thoroughly spa-inspired space with an indulgent walk-in shower and double sinks.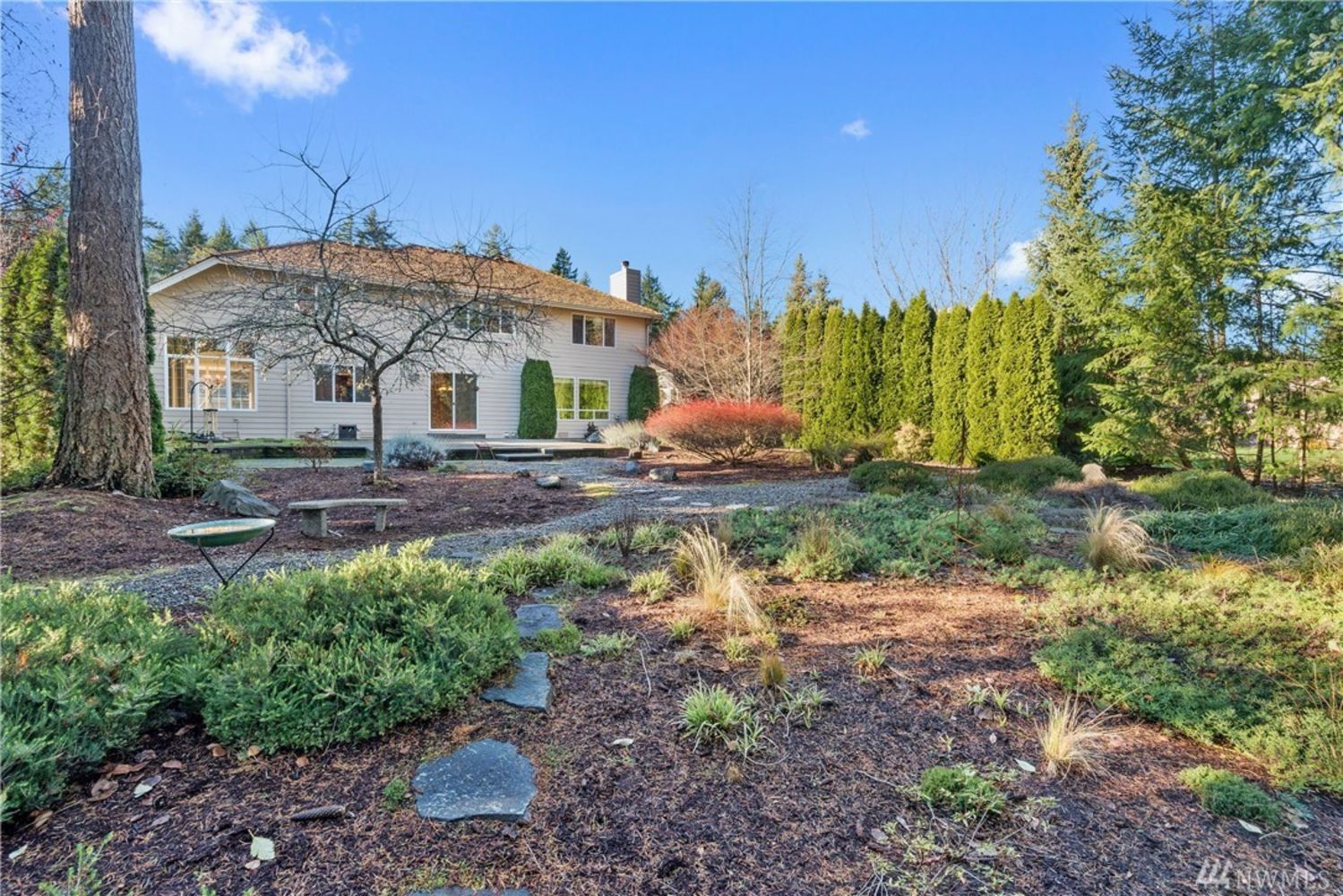 A sanctuary of nature can be found in this home's backyard, a dynamic space that features a huge patio, charming paths that wind through the property, and beautiful greenery, all framed by tall emerald trees in the background. The patio boasts tons of space for a barbecue, outdoor dining sets, lounge chairs, and any other luxuries your entertainer's heart desires! Enjoy hosting a crowd for a weekend barbecue, or simply bask in the peace and quiet of this private slice of paradise that's all yours. Your ultimate vision of home-sweet-home is just waiting to become a reality here!
Living in Gig Harbor's Gated Bridgewood Estates
At 2505 22nd Ave Ct NW Gig Harbor, WA 98335, enjoy being in a super convenient Gig Harbor location. Especially a dream for commuters, here you're merely a 2-minute drive away from Highway 16 making it easy to hop over to Tacoma or get around the rest of Gig Harbor. Golf enthusiasts are certainly in luck as well, as the Performance Golf Center is a quick 3-minute drive away and Madrona Links Golf Course is only 4 minutes away. Head north for just 6 minutes, and you'll find yourself at Uptown Gig Harbor, a hub of city convenience. Safeway, Galaxy Uptown Luxury+ Theatre, HomeGoods, Ace Hardware, several popular restaurants and more are all in the mix!
Interested in learning more? Click here to view the full listing! You can also contact REALTOR® Kris Jones online here or give her a call/text at (253) 370-8928!
Boasting a meticulously updated design that's brimming with style and premium amenities, this Twin Lakes home offers more than just a place to live, it offers a lifestyle. With stunning views of Puget Sound, the Olympic Mountains and Twin Lakes Golf Course, this 4-bedroom, 2.75-bath haven is both a luxury retreat and a comfortable dream home. Top-of-the-line renovations throughout the kitchen and bathrooms mean your experience inside this 2,470-sq.-ft. home is just as stunning as outside. Located along the 14th Fairway of Twin Lakes Golf Course at 4110 SW 314th St. Federal Way 98023, this residence is listed at $649,950.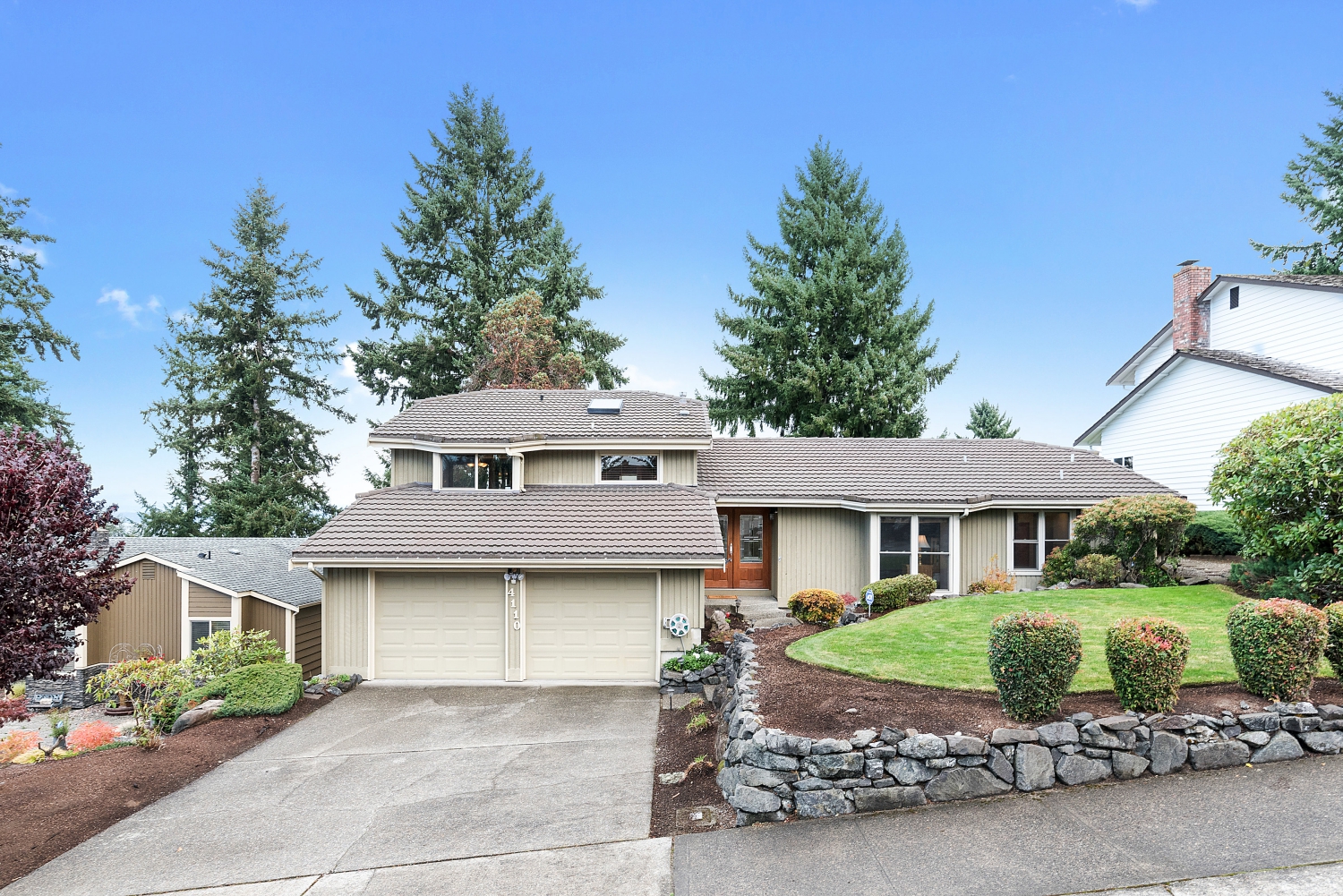 Beautifully landscaped front- and backyards create oasis-like surroundings for this stunning residence. The main floor's large windows mean the surrounding greenery, Sound and mountains are always part of your day. Skylights bring year-round natural light into the open-concept kitchen and living space, where gorgeous granite countertops frame top-end appliances: a stainless steel refrigerator and gas range. A walk-in pantry completes this gourmet kitchen, adjacent to which you'll find a large dining area and built-in wine refrigerator. A stunning floating island with bar-style seating unifies the kitchen and living spaces, and leaves room for unhindered views of the deck through sliding glass doors.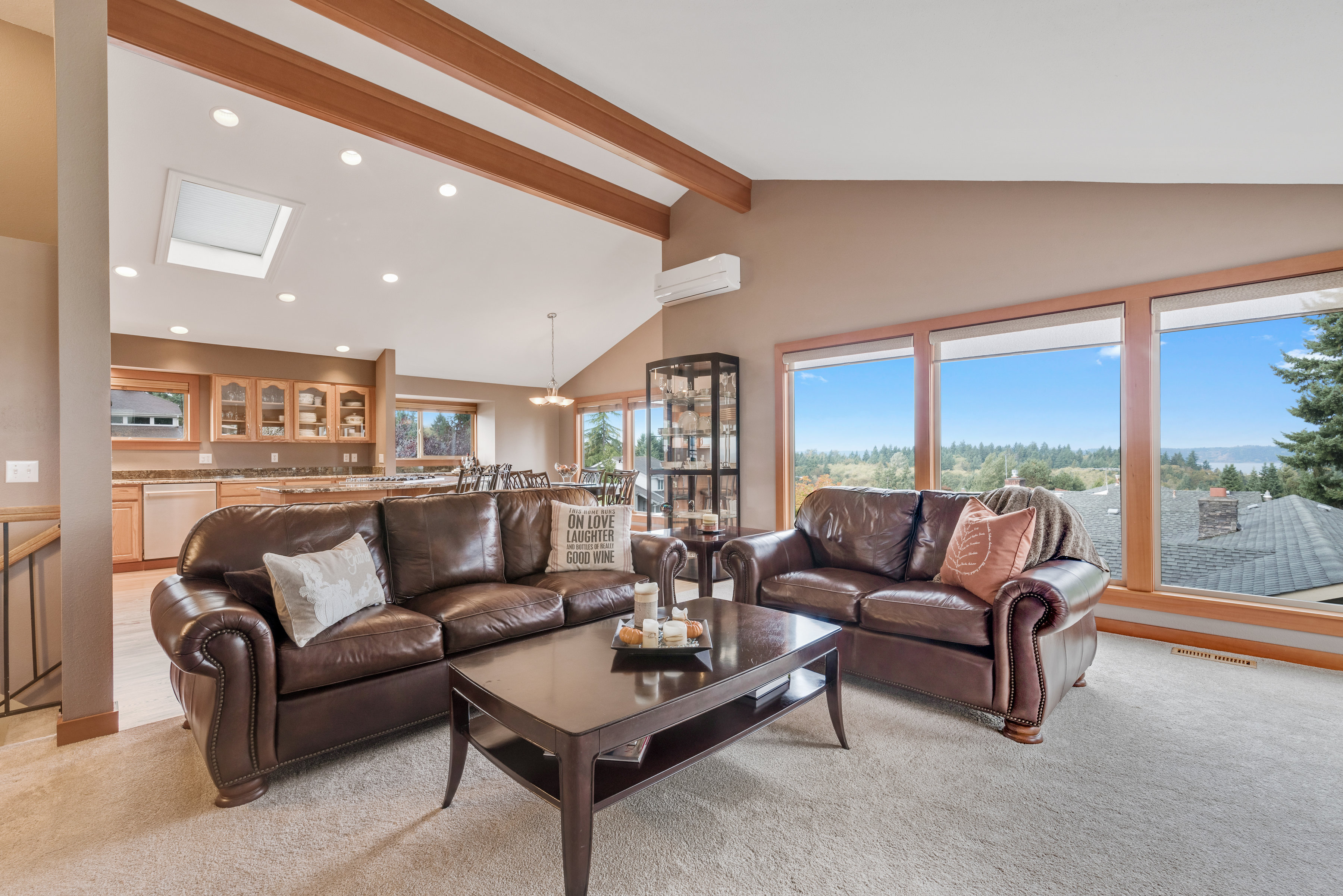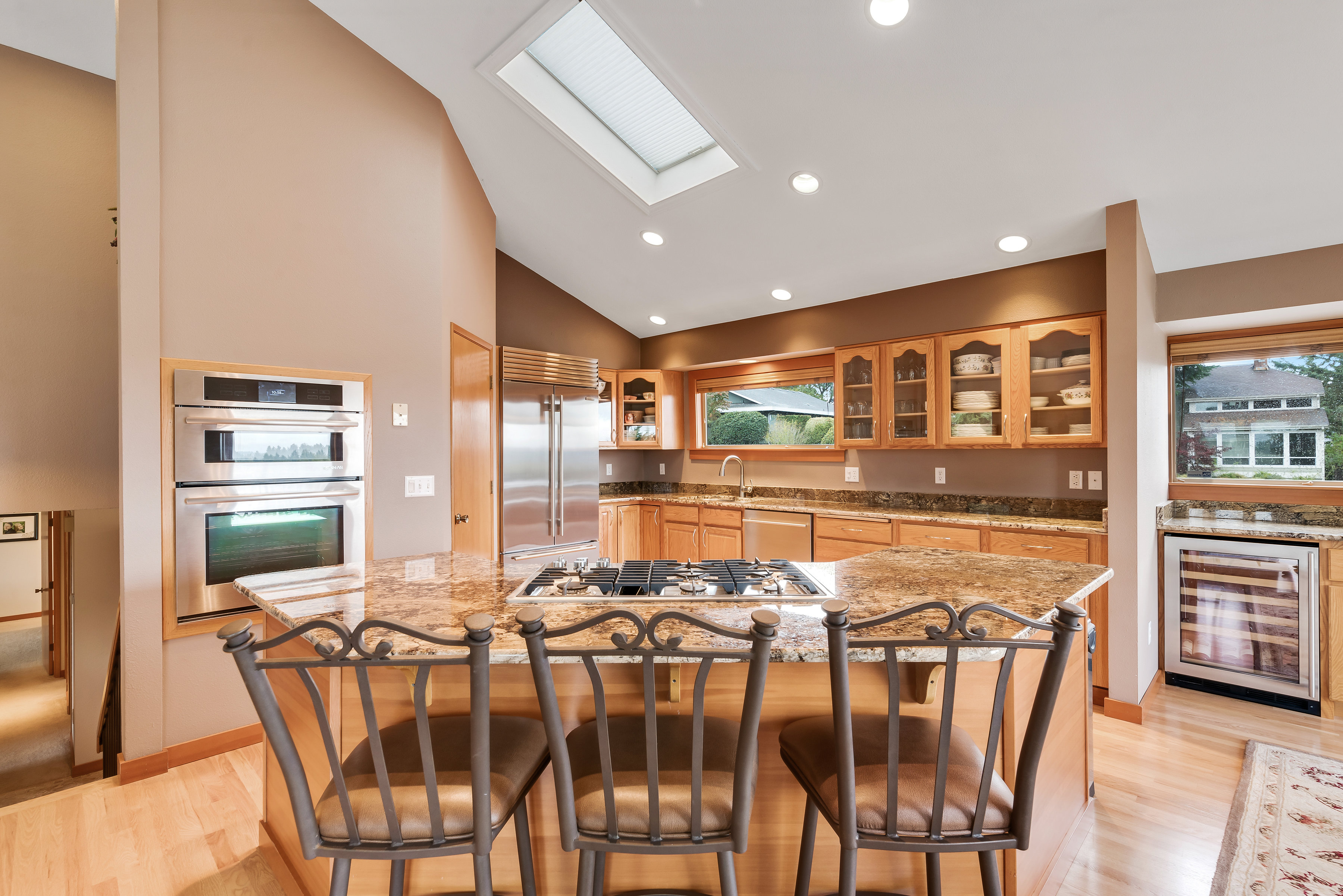 The breathtaking views continue in the first-floor master bedroom, whose floor-to-ceiling windows and French doors allow easy access to the home's surrounding greenery. A connected master bathroom boasts double sinks and a large jetted tub, the perfect spa-like retreat after a long day. A walk-in closet leaves plenty of space for even the largest wardrobes. Just upstairs, you'll find the rest of the home's generous and versatile 4 bedrooms. Folks who enjoy entertaining will fall in love with the fully finished basement, complete with wet bar and wine cooler.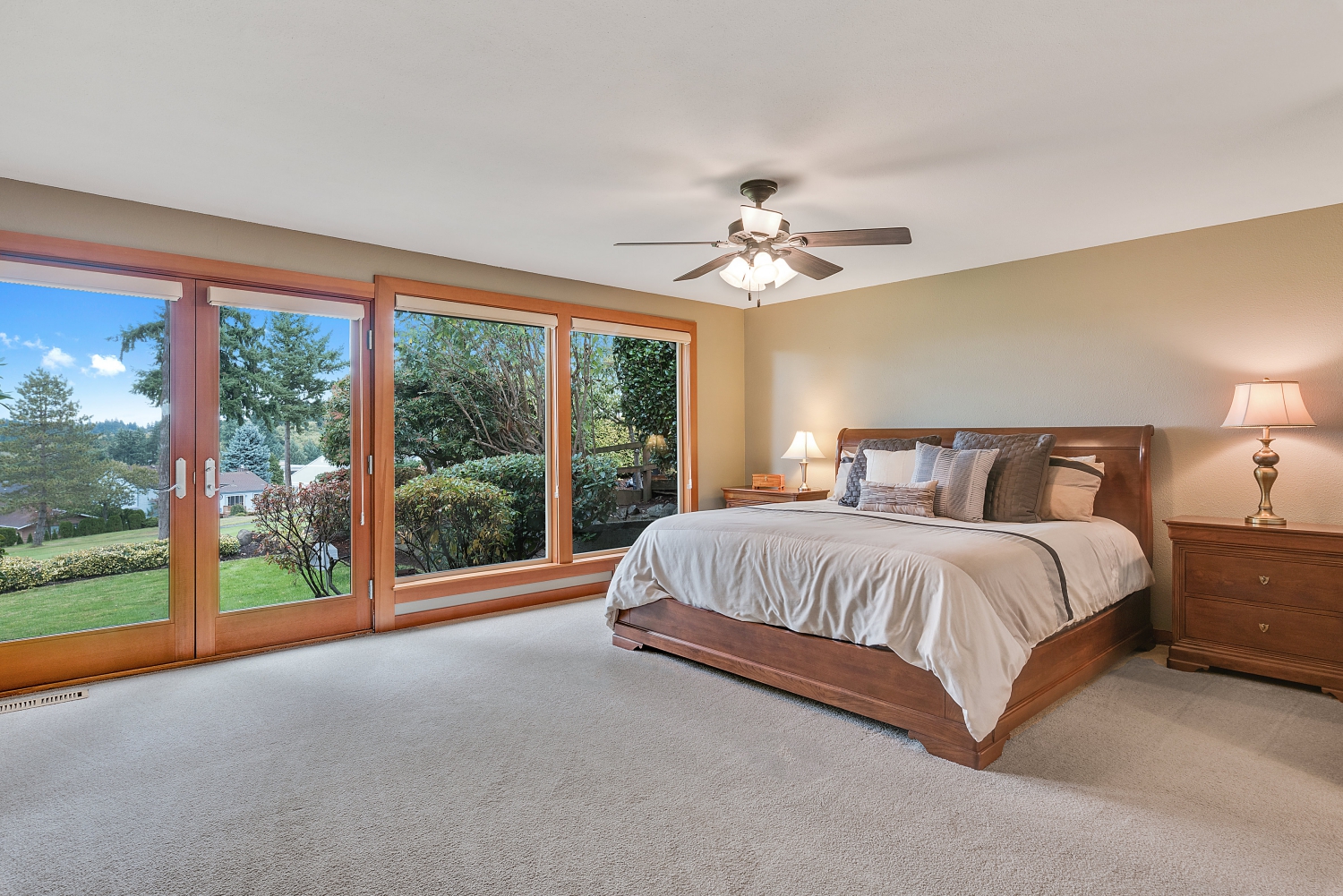 With a beautifully landscaped yard and unparalleled access to Twin Lakes Golf Course, this home's natural surroundings are nothing short of stunning. Quite simply, this home is a golfer's dream, but non-golfers alike will marvel at the chance to see Puget Sound and the Olympic Mountains on a daily basis. An elevated deck creates the ideal space for a BBQ, patio dining set and lounge chairs, and a built-in sprinkler system keeps everything looking lush year-round. Where the verdant lawn ends, the golf course fairway begins, making this home a true luxury retreat.
Living in Federal Way
At 4110 SW 314th St. Federal Way 98023, enjoy having easy access to the best of both worlds—city conveniences alongside natural beauty! In addition to the unparalleled proximity to Poverty Bay in Puget Sound (just a 10-minute drive away), a 30-minute walk brings you to Dash Point State Park, where you can enjoy miles of forested hiking and biking trails and beautiful swimming beaches. Highway 509 is just a 5-minute drive from home, which gives you access to Federal Way's shopping centers, grocery stores, restaurants and more.
Interested in learning more? Click here to view the full listing! You can also contact REALTOR® Kris Jones online here or give her a call/text at (253) 370-8928.
Brimming with thoughtful updates that show off contemporary style and modern amenities, this dynamic 1,644-square-foot home is nestled on an expansive 2.8-acre property in a rural setting. Described by its current owner as being secluded and picturesque, this 2-bedroom, 2-bath residence is absolutely brimming with potential! Find plenty of outdoor space to take advantage of, whether you dream of having farm animals, a garden, your very own workshop, or all of the above. Located at 12705 114th St Ct KPN Gig Harbor WA, 98329, this Key Peninsula treasure is listed for $360,000.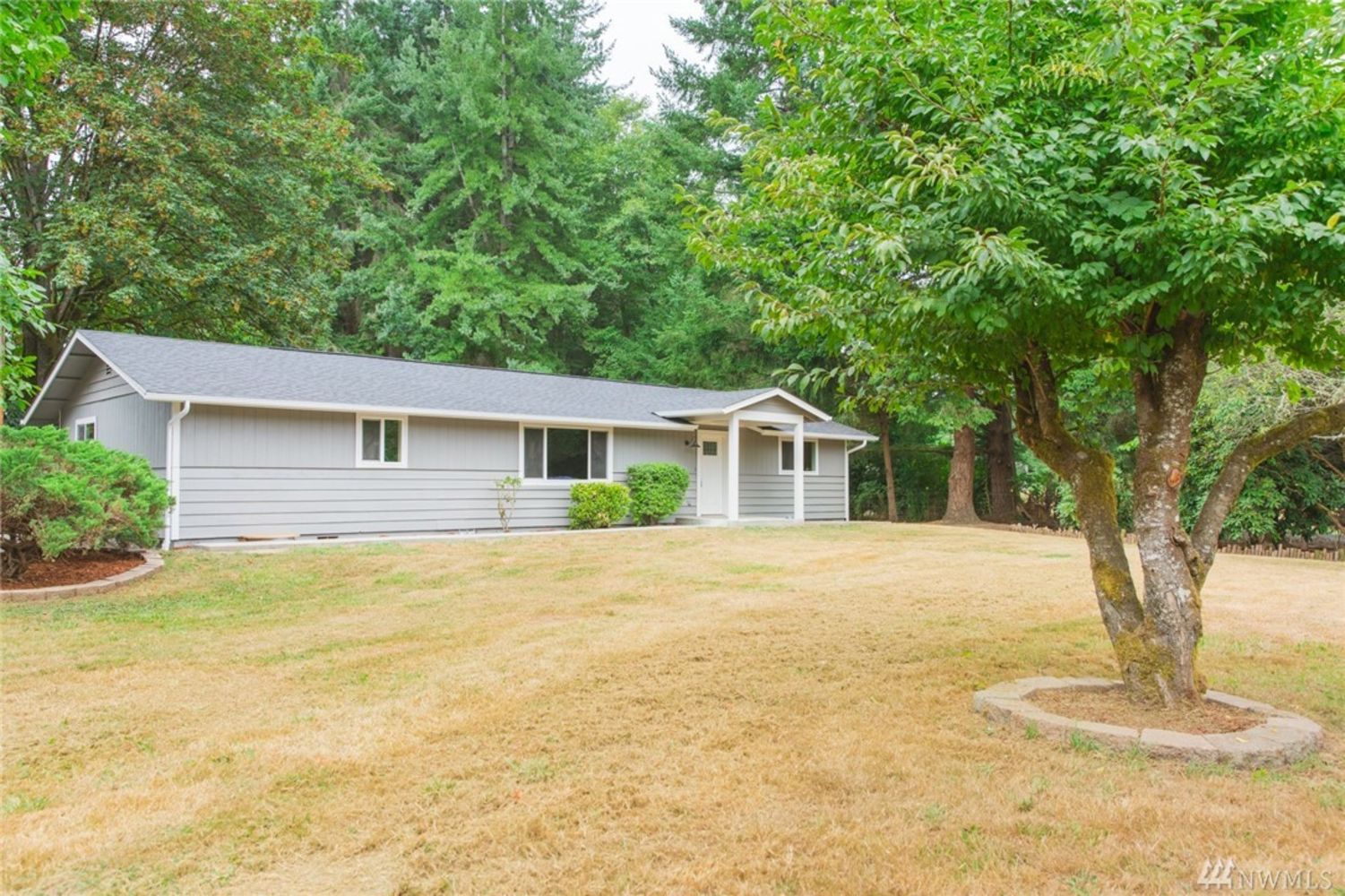 A long driveway with new, eye-catching white fencing welcomes you, and the sprawling property is just waiting for you to transform it into your ultimate dream home! Four flat separate pastures along with an oversized covered stall offer the potential to become an equestrian property, and there's even enough room to build a full-sized arena and a custom barn if you so choose! Fruit trees can be found throughout the property as well, and those who enjoy having farm-fresh produce will certainly love having the space to cultivate their very own garden of fruits and veggies.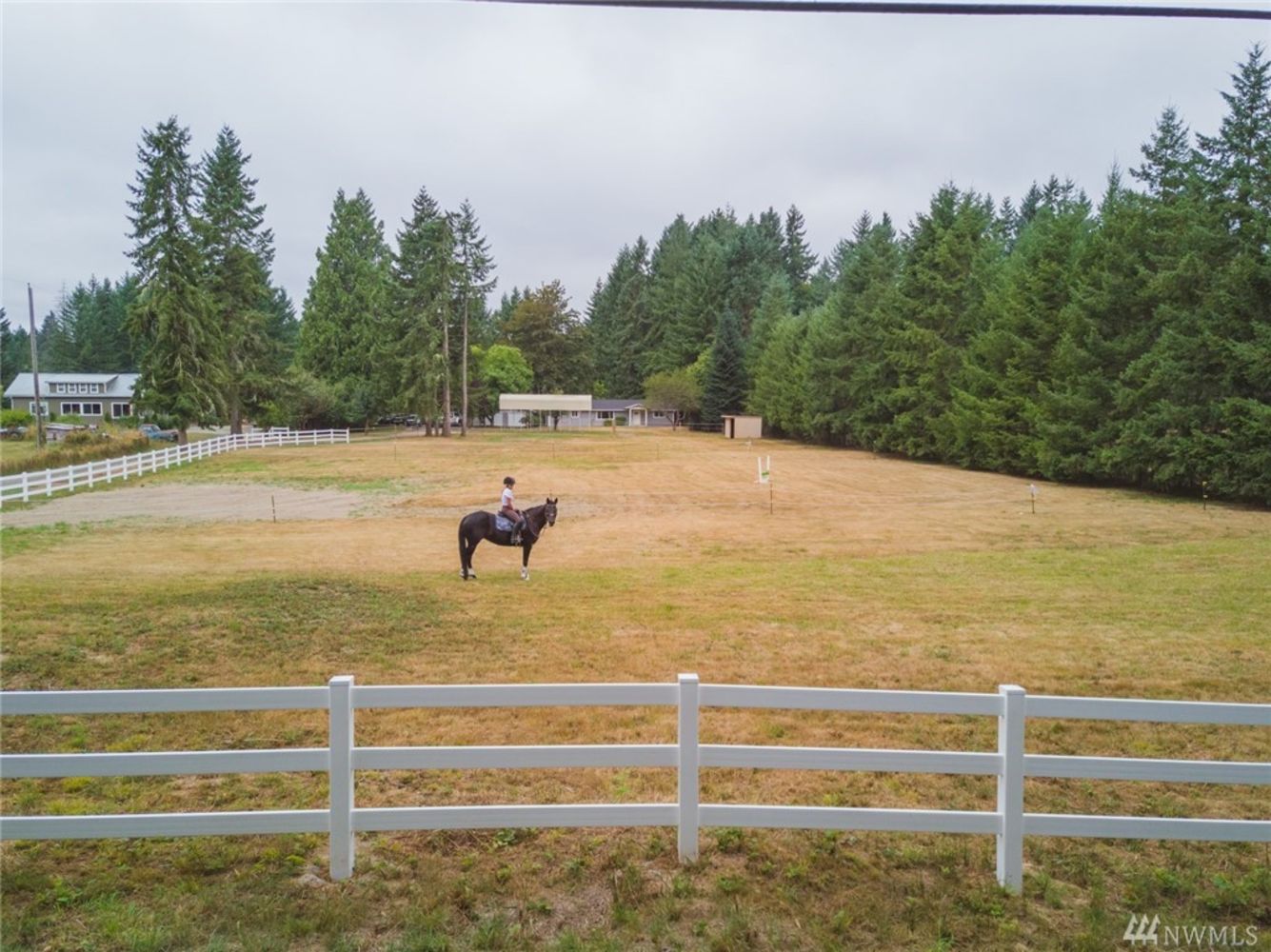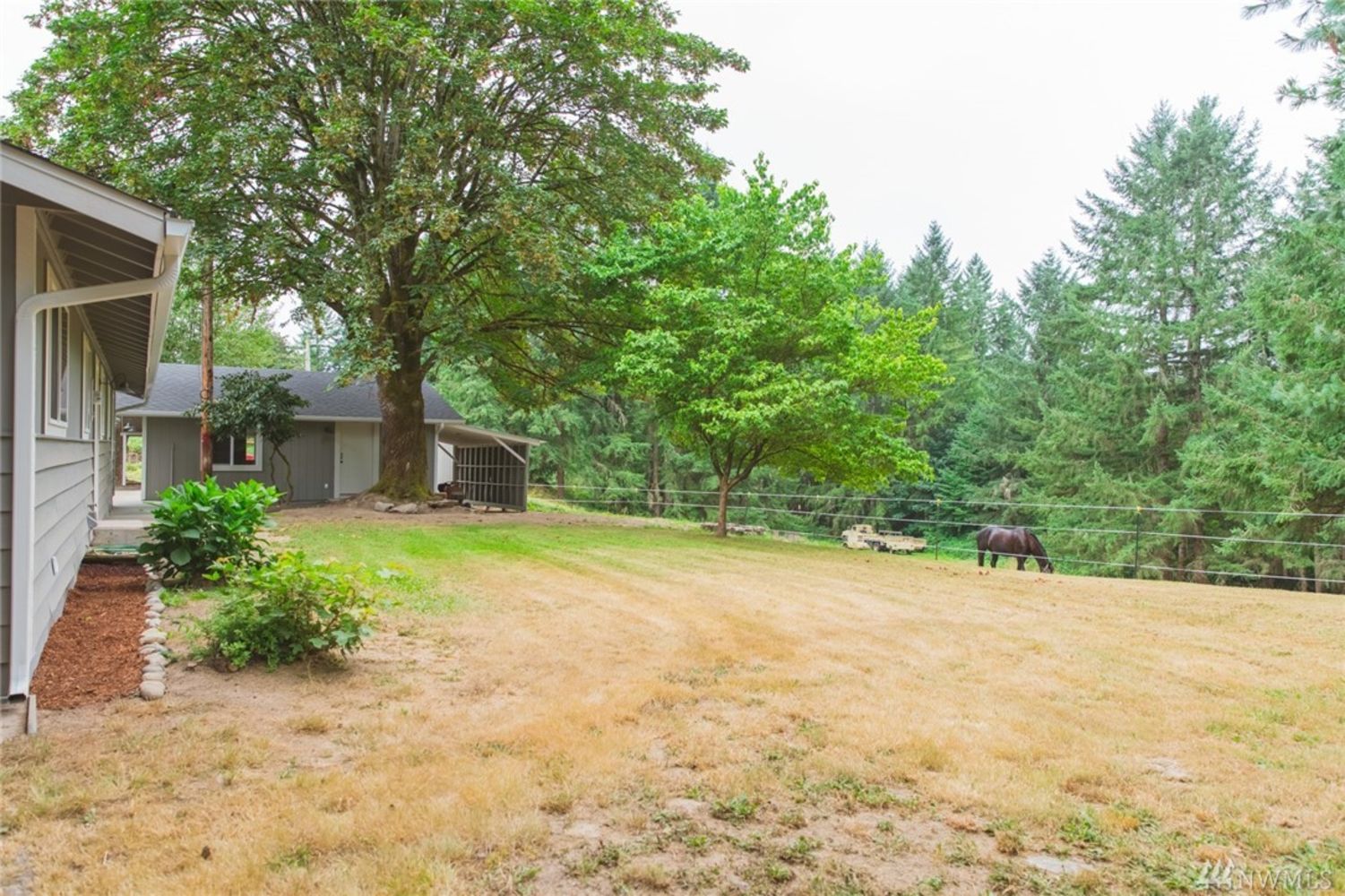 Built in 1974, this home has been completely updated, and homebuyers are sure to appreciate its many thoughtful upgrades. New flooring, new quartz countertops, a new stone backsplash, new stainless steel appliances, and new tiled showers are among a few of the updates that have tastefully brought this home into the future. Stylish finishes are just waiting for your personal touch! In the great room, huge windows fill the space with bright, cheerful light, and this elegant space is ready for relaxing in peace and quiet or entertaining a crowd.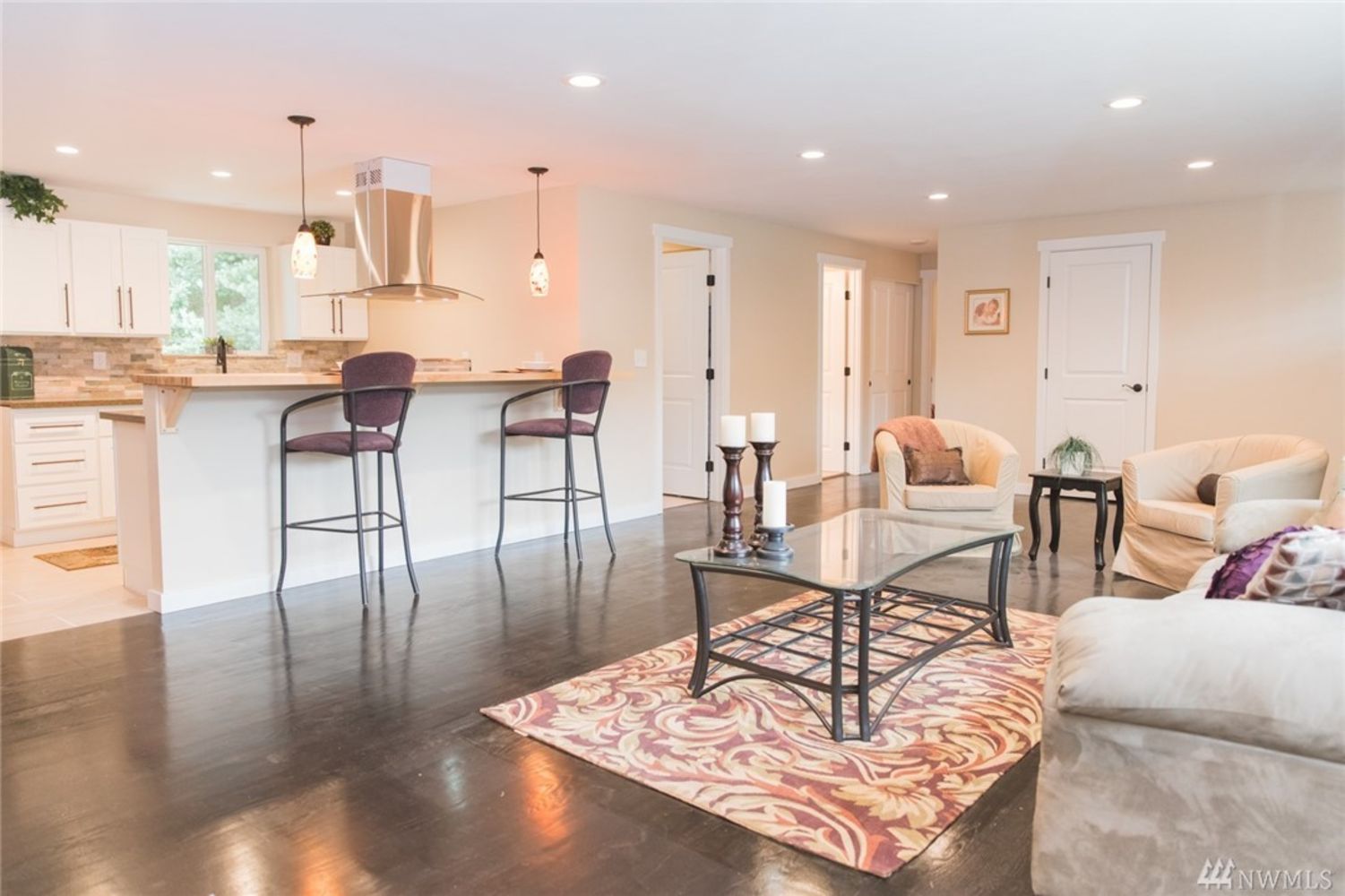 The living room effortlessly flows into the upgraded kitchen and dining nook, a gorgeous haven replete with sleek, shimmering surfaces and a magazine-inspired color palette. The smart design ensures that whipping up gourmet meals is easy and efficient, while the large layout promises you have plenty of space to spread out in! The adjacent dining area offers a versatile option, while bar-style counter seating showcases even more room for dining in style. 
This home's fabulous master suite is an absolute sanctuary! When it's time to unwind, this pristine space shows off cozy carpets accented by crisp trim and a warm color palette, and an ensuite bath and walk-in closet that are the epitome of comfort. The huge walk-in closet comes with convenient built-ins, making it easy to stay organized, while the ensuite master bath features spa-inspired amenities at every turn. This home's second bedroom and second bath offer similar comfort and updated finishes as well, ensuring loved ones have privacy and a space to call their own!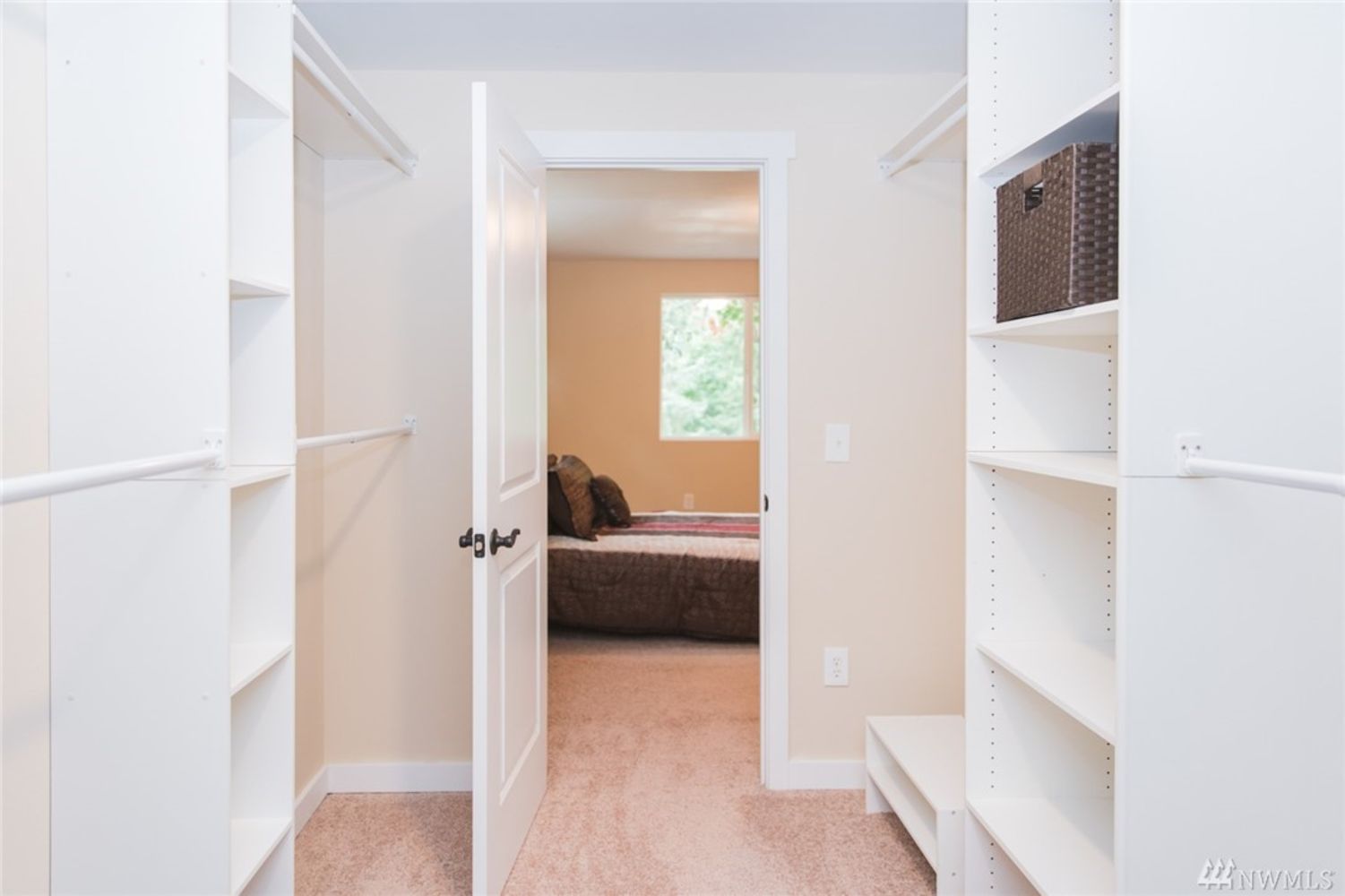 Living in Gig Harbor on the Key Peninsula
At 12705 114th St Ct KPN Gig Harbor WA, 98329, you can enjoy being tucked away in a secluded, rural location on the Key Peninsula. Take advantage of this excellent location that's close to plenty of opportunity for outdoor activities, whether you like horseback riding and hiking or boating and kayaking. You're just minutes from Henderson Bay, and of course, Gig Harbor is filled with opportunities for water sports as well! When you need to run errands or get around the region, Highway 16 is just 10 minutes from home, making it easy to get to shop, restaurants, services, and other amenities. 
Interested in learning more? Click here to view the full listing! You can also contact REALTOR® Kris Jones online here or give her a call/text at (253) 370-8928!